Desserts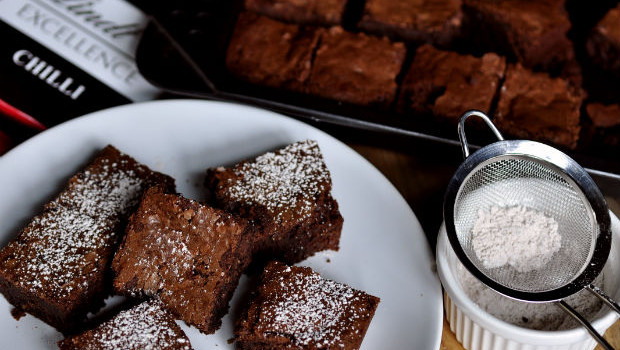 Published on June 11th, 2014 | by Gareth
5
Double chocolate cinnamon-chilli brownies
True appreciation of something often comes from experiencing a little discomfort. I'm not talking about the type of discomfort that the crazy Japanese game show contestants endure, like leaping naked into frozen lakes or sitting on a spike for 3 hours. What I am referring to is far less extreme. And tends not to be so excruciating
Sunday night marked the final night of Sydney's festival of light, Vivid. Since I missed out last year, I wanted to take a look. Sydney town, take a bow; you put on a splendid show that drew Sydneysiders into the night air by the thousands.
For this part of the world, it was a chilly evening, (11 degrees C); compared to Britain's winter nighttime temperatures of around -1 degree C. Normally in Australia, a coat and scarf are just fashion accessories. For once though, I could justify an extra layer (I don't want to turn soft by getting acclimatised to mild winters).
After a hike around the city, starting on the North Shore at Milsons Point and finishing up in Darling Harbour, my feet were starting to ache; my ears and nose were pink from the cold. Hardly the sub-zero wind chill that used to make my ears and fingers purple and numb back home. But it was enough to appreciate a hot coffee and a fresh batch of double chocolate, chilli-cinnamon brownies.
This recipe makes a moist, chewy, crunchy-topped brownie with subtle kick at the end. It's similar to my beetroot-chilli brownie, but without the beetroot
Prep time: 5 minutes
Cooking time: 25 minutes
Equipment: Large mixing bowl, Pyrex bowl, spatula, baking tray, electric whisk/beater thingy
Ingredients – makes approximately 20
185g unsalted butter – diced
185g good quality dark chocolate (70%) – roughly chopped
85g flour
40g cocoa
100g dark or milk chocolate (I used Lindt chilli chocolate) – chopped
3 large eggs at room temperature
40g soft brown sugar
200g caster sugar
1 tsp. vanilla extract
¼ tsp. chilli powder
½ tsp. cinnamon powder
Method
Preheat the oven to 180 degrees C
Put the butter and 185g of the dark chocolate in an ovenproof bowl. Pop in the oven to melt for 5 minutes (saves messing with saucepans of water or microwaves).
Once it begins melting, remove from the oven and stir until all the butter and chocolate has melted.
Stir in the soft brown sugar and set aside to cool.
Sift the flour, cocoa, chilli powder and cinnamon into a bowl.
In a separate bowl, whisk the eggs and the caster sugar until the mix is cream coloured and doubles in volume. Don't over whisk otherwise the brownie will be too 'cakey'.
Using a spatula, fold the melted chocolate mix into the egg. Don't stir it in; otherwise you loose a lot of the air from whisking.
Once you have evenly mixed the chocolate, sift in the flour/cocoa/spice mix. Sifting will help avoid lumps.
Fold this in until you have a dark brown, glossy mixture.
Fold the broken chocolate pieces and then pour the mix into a greased baking tray.
Bake for 25 minutes.
To give it an extra kick, mix two tablespoons of icing sugar, ¼ teaspoon of ground cinnamon and a generous pinch of chilli powder. Sprinkle over the brownies once they have cooled.
Have you found greater appreciation of anything as a result of a little discomfort?
And what's your favourite brownie recipe?
If you like the shots of the Sydney Opera House and want to see more, visit my Pinterest page and go to this board