Desserts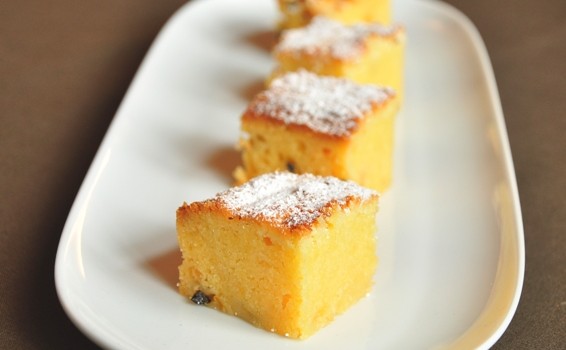 Published on May 26th, 2012 | by Gareth
7
Four delicious brownie recipes
Thursday saw a fervid afternoon kitchen session unfortunately there wasn't anything saucy or salacious about the activity. I set out to meet and vanquish my challenge of five different chocolate brownie recipes in five days….by doing it in two. The reason for this change was down to the fact (which had initially escaped me) that Australia's Biggest Morning Tea – the purpose of my baking bonanza…was Friday!
So for several intense hours on Thursday I made another four brownie bars or are they cakes? Anyway. Four different ones to add to the beetroot chilli brownie were achieved and sent off for sale this morning to the hungry hoards.
Double Dark chocolate brownie.
Milk chocolate and banana brownie.
Black forest brownie with Kirsh – undoubtedly my favourite one.
White chocolate and passion fruit brownie – although I think 'whitey' or 'blondie' is a more appropriate term.
The method for making each recipe is exactly the same as for the beetroot brownie so refer to this post for the prep and baking steps. Substitute the beetroot for dark chocolate chunks, banana or cherries, passion fruit respectively. The addition of the fruit also meant that I had to reduce the cooking temperature and increased the baking time as marked below.
Double dark chocolate brownie
Oven temperature: 160 degrees C
Baking time: 40 -50 mins (check with a skewer after 30 mins then ever 10mins until cooked)
Ingredients:
3 eggs
170g dark chocolate (70% cocoa solids)
170g unsalted butter
170g caster sugar
80g plain flour
20g cocoa powder
20g dark chocolate broken into chunks
Milk Chocolate and banana brownie – this actually comes out a bit like chocolate banana bread.
Oven temperature: 160 degrees C
Baking time: 40 -50 mins (check with a skewer after 30 mins then ever 10mins until cooked)
Ingredients:
3 eggs
170g milk chocolate
170g unsalted butter
140g caster sugar
30g dark brown sugar
170g roughly mashed banana
100g plain flour
Black forest brownie
Oven temperature: 160 degrees C
Baking time: 35 -50 mins (check with a skewer after 30 mins then ever 10mins until cooked)
Ingredients:
2 eggs
170g dark chocolate (70% cocoa)
170g unsalted butter
170g caster sugar
170g tinned dark cherries in syrup (strained and blended to a rough pulp)
1 tblsp Kirsch liqueur or vodka (add this to the cherry pulp)
100g plain flour
White chocolate, passion fruit and vanilla brownie
Oven temperature: 160 degrees C
Baking time: 40 -50 mins (check with a skewer after 30 mins then ever 10mins until cooked)
Ingredients:
3 eggs
170g white chocolate
170g unsalted butter
170g caster sugar
1 tsp vanilla essence
Pulp of 2 passion fruit (don't forget to strain to remove the seeds – which I didn't)
100g plain flour