Desserts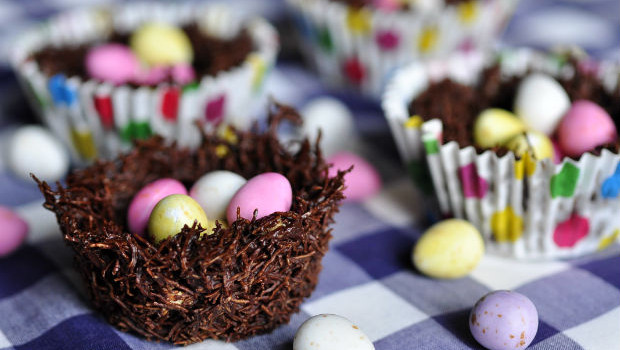 Published on April 17th, 2014 | by Gareth
5
Chocolate Easter Nests
Easter like Christmas is a time for festive food and I love that. Hot Cross buns and roasts, then there are the regional specialities, Italians have Neapolitan Cake, the Greeks have Tsoureki and us Brits have Simnel, (though I personally think marzipan is evil, so perhaps I'll leave the latter).
This recipe is quick and easy, though hardly a regional tradition…yet. Normally the recipes I share under For Kids, is good healthy stuff, this is something just for fun that the kids (or adults) will love. Although the use of shredded wheat help maintain some degree of balance.
Prep time: 10-15 minutes
Cooking time: 0
Equipment: Glass bowl, saucepan, muffin/cup cake tray, cup cake papers
Ingredient 
5 Shredded wheat
240g Dark chocolate (or milk chocolate)
20g
Cadbury mini eggs/speckled eggs
Method
Melt the chocolate and butter in a bowl (either over a pan of water, in the oven or in the microwave).
Break the shredded wheat up in a separate bowl.
Mix the chocolate with the shredded wheat until well coated.
Put the cup cake papers in a muffin tray.
Put 1 1/2 spoonfuls of the nest mix in the cup cake papers and mould into a nest/basket shape.
Chill the nests in the fridge, and then add your choice of mini eggs.