Desserts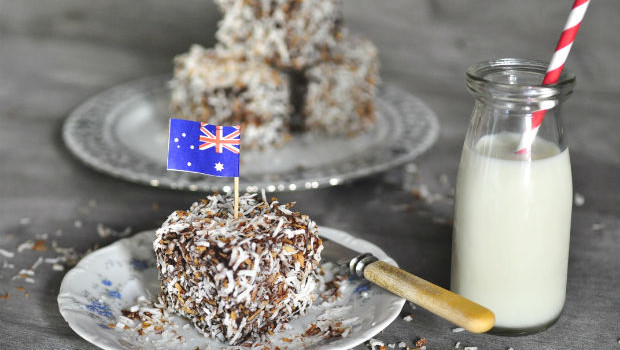 Published on January 26th, 2014 | by Gareth
4
Triple Choc Lamingtons
There are few more befitting recipes to share on Australia Day than the Lamington. I don't know what makes it so Aussie. The Lamington is unclear beyond the fact that it was an Australian creation probably named after the governor of Queensland in the late 1800's. Either way, it's as Aussie as cooking prawns on the barby whilst listening to ACDC and sipping on a middy (that's a small beer).
Now the problem with sharing a Lamington recipe this time of year is, it's not a very original idea. And being a bit creative, I like to be different. Short of creating the first Lamington recipe way back over 100 years ago, it's never really going to be original. But this raises the question of what is original?
With this in mind, the challenge to create a 'luxury lamington', became a little easier and, I bowed to the work of others. I adapted a recipe for triple-choc Lamingtons that featured in Gourmet Traveller a few years ago (by Emma Knowles and Lisa Featherby). The result is quite decadent, without being too sweet.
Serves 10
Preparation time: 20 minutes (plus 2 hours chilling time)
Cooking time: 20-30 mins
Equipment need: 18cmx28cm baking tin (4cm deep), electric beater, spatula and mixing bowl oh and a fridge and an oven if you want to get picky.
Ingredients
Cake
100g dark chocolate (70% cocoa solids)
180g plain flour – sifted
300g caster sugar
60g unsalted butter
60g cocoa powder – sifted
2 tbsp. baking powder – sifted
8 Eggs
Filling
Coating
4 cups shredded coconut (or desiccated coconut)
80g dark chocolate (70% cocoa solids)
190ml water
230g icing (confectioners) sugar – sifted
80g cocoa powder – sifted
50ml milk
Method
Preheat oven to 180degreesC
For the sponge cake, melt half the butter and half the chocolate. You can do this in a glass bowl over a pan of simmering water. Or cheat and put it into an ovenproof bowl and slam it in the oven for a few minutes, then stir to mix.
Whisk together half the caster sugar and 4 of the eggs in a large (preferably steel), mixing bowl until they have the colour and consistency of cream (and doubled in volume – takes at least 5 minutes).
Gradually fold in half of the sifted cocoa, flour and baking powder to your silky mix.
Finally fold in the chocolate and butter mix.
Pour the cake mix into the cake tin and bake for 20-25 minutes, (best to grease the tin and line with baking paper first – saves lots of hassle later).
Remove the sponge and turn out onto a cooling rack and repeat the process with the remaining ingredients.
Once the cakes have cooled, wrap in foil and put in the fridge for 40 minutes (helps prevent it crumbling when working with it).
Trim the cake crust with a bread knife and generously spread the jam on one of the cakes. Sandwich together, wrap again in foil and put in the freezer for 20 minutes.
To make the chocolate coating, gently heat the water and chocolate, stirring regularly.
Once the chocolate has melted add the cocoa and icing sugar, stiffing as you go to prevent lumps.
Lightly toast half of the coconut (on a tray under the grill), and then mix with the remaining coconut in a tray. This might seem unnecessary but it helps break the sweetness.
Cut the cake into cubes and using a fork dunk the cake into the chocolate coating, then roll in the coconut. Set aside and chill for 1 hour to set.
Happy Australia Day! How will you be celebrating?