Desserts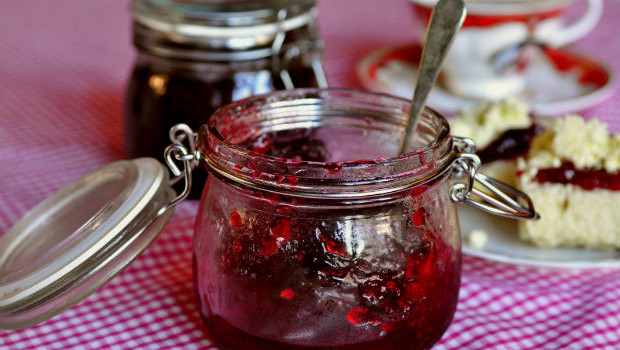 Published on December 23rd, 2013 | by Gareth
3
Scones and strawberry jam
Cream teas probably don't seem too 'Christmassy' to most people, but in Britain they are served in the summer time – and it's summer in Australia. The Christmas colour palette heavily features red and white, as do cream teas. So there you have it, cream teas are clearly as festive as Rudolf the Reindeer.
Last week I took a trip to Syndey's Flemmington Markets, I returned with a bevy of berry fruit and set to making the all time classic English condiment, strawberry jam. Originally I intended to experiment with a few different flavour combos, (strawberry and thyme, strawberry and tarragon, strawberry and vanilla, basil, ginger etc). However, Nina soon set me straight, she requested plain strawberry jam. The only variation that passed muster was the inclusion of raspberries.
The result? This isn't a namby pamby, artsy fartsy, "look at me I make crazy flavour combos Heston Blumenthal' style jam. This is a serious no nonsense straight up summer fruit jam. Modesty escapes me here – it's a bloody good jam.
Of course strawberry jam, like a beautiful dress, needs a body to drape itself over. Cue homemade scones, from a family recipe. And to top it all, the tiara, or in this case, clotted cream. Back home we use Cornish clotted cream (made by indirectly heating unpasteurised milk and allowing to cool). Unfortunately that's not available down under. Luckily my local IGA supermarket has just introduced Tasmanian clotted cream to their shelves. It's not quite the same, its thicker (making it more difficult to spread) and has less flavour. Nonetheless it's a plus over whipped or 'squirty' cream.
So here it is, Humble Crumble's English cream tea.
Preparation time:
Jam – 10 minutes
Scones – 10 minutes
Cooking time:
Jam – 20 minutes
Scones 15 minutes
Ingredients
Jam
1 kg of fresh strawberries – hulled
200g fresh raspberries – hulled
4 tbsp fresh lemon juice
1 kg raw sugar
Pips from 2 lemons
Skin from 1 lemon
1 x 50g pkt of jam setter mix or pectin
Scones
2 1/2 cups self raising flour
2 tbpn sugar
Pinch salt
50g cold butter – cubed
1 1/4 cups buttermilk
½ cup sultanas
Method
Strawberry Jam
Put the strawberries, raspberries and sugar in a large heavy based pan over a medium heat.
Wrap the lemon pips and skin up in muslin or a piece of cheese cloth and tie it up.
When the sugar has melted, add the bundle of lemon pips and the lemon juice and jam setter then bring to the boil.
Boil the jam hard for about 10 minutes. You may need to stir to prevent it catching on the bottom of the pan. BUT be careful, getting hot jam on your skin will give you a nasty burn.
To test if the jam has set, either take the temperature should be above 105degrees or just put a teaspoon of the jam onto a cold plate (from the fridge). Prod the splodge of jam with your finger, if it wrinkles up, its ready.
Pour the jam into sterilized jars, seal and label.
They make great gifts!
Scones
Preheat the oven to 210 Celsius
Put flour, sugar, salt and butter in processor and process until resembles breadcrumbs. Transfer to a large bowl.
Make a well in the dry mix and add the buttermilk. Mix quickly with a knife to make a soft dough, add a little extra milk if needed.
Tip onto a floured bench and gently pat to 3cm thick.
Cut into rounds or squares and place on prepared tray.
Brush the top of the scones with milk and bake 10 to 15 minutes until risen and golden brown.
Allow to cool.
Serve with the jam and clotted cream (or normal cream if you can't find clotted cream.
Question, jam first or cream first?