Desserts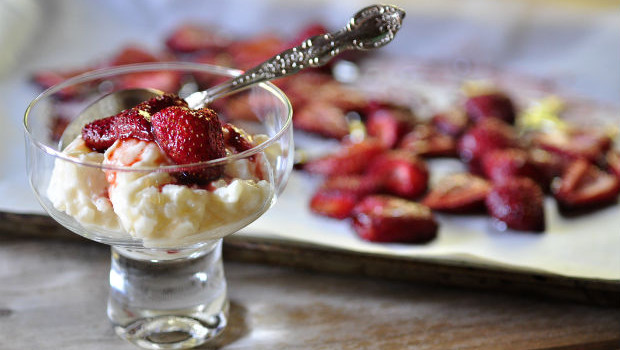 Published on February 15th, 2014 | by Gareth
4
Sex up ice cream with roasted strawberries
I intended to share the love, with what I think is the best topping for ice cream, before Hallmark Day.…. I mean Valentines Day. Unfortunately life got the better of me, again.
A good topping can transform the humblest of ice cream or dessert. When I was a wee nipper, the choice was limited to fake raspberry sauce or chocolate sauce (and not the fancy schmancy type that uses 70% cocoa chocolate with real tears of Swiss milkmaids). That's all changed, the people demand more. Toddle off to Gelato Messina; the fine dinning of ice cream and you'll be showered with an abundance of flavour combos.
Taking a leaf out of Messina's simple and natural philosophy, I roasted a couple of batches of strawberries in balsamic vinegar. Might sound a bit odd and to be honest I wasn't 100% sure what I was going to do with the finished product.
Just like roasting tomatoes, the process intensified the smell and flavour of the strawberries. Our flat was treated to heady, syrupy aromas. The flavour was a perfect mix of sweet and sharp, the colour was thick and intense blood red. Stored in a sealed container in the fridge they can last up to a week.
In the end the roasted strawberries didn't last long enough to make it to a bowl of ice cream. Instead they were used on chilled rice pudding and added to banana bread. They will return though as I want to give it a whirl on strawberry and vanilla sorbet.
Preparation: 1 minute
Cooking time: 45 minutes
Equipment: 1 bowl, a baking tray and an oven.
Ingredients
500g fresh strawberries – hulled
1 tsp. olive oil
1 tbsp. balsamic vinegar, preferably caramelised
1 ½ tbsp. honey
Method
Preheat oven to 180 degrees C
Mix all the ingredients in a bowl (for large strawberries, cut them in half).
Line a baking tray with baking parchment and pour the strawberry mix on to the tray.
Roast the strawberries for 30-45 minutes, taking care not to let them or the syrupy sauce burn.
Remove from oven and allow to cool, transfer to a sterilised jar and store in the fridge….or just eat them hot or cold.
What's your philosophy towards food, simple and natural?