Vegetarian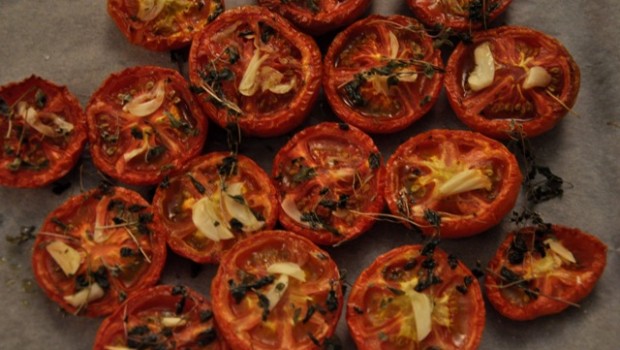 Published on March 14th, 2011 | by Gareth
4
Slow roasted tomatoes with parmesan
Everyone has their idea of what comfort food is or should be. Sometimes it is influenced by your culture. Often it originates from what mum gave to you to help you feel better when you were at home from school snot faced and feeling like you had barbed wire stuck in your throat.  For me it's definitely related to a mash up of Anglo Saxon/Celtic heritage that makes a lot of the old British favourites; ½ lb of Dundee cake, bangers and mash, custard, pasties, pies and jam roly poly.  Hardly fat fighters approved.
This snack however, ticks all the boxes it's quick, easy, good hot or cold, tastes reassuringly good and it's healthy. Who'd of thought comforting food could be so good for you.
Cooking time: 4 hours for the tomatoes, 5 minutes to assemble
Ingredients
12 large plump ripe tomatoes
2 cloves garlic
Oregano
Salt and pepper
Olive oil
2 slices of fresh, thick crusty wholemeal bread
Butter
Parmesan
Method
Preheat the oven to 100degrees.
Cut the tomatoes in half horizontally.
Lay baking paper on an oven tray and arrange the tomatoes on them.
Sprinkle with olive oil and thin slices of the garlic.
Season with salt, pepper and oregano.
Pop in the oven for approximately 4-4 ½ hours, just enough time to make a scale model of the Eiffel Tower out of bread and jam.
When the tomatoes are done serve on thick cut wholemeal toast (buttered – its comfort food!) and grate parmesan over the top.
Keep the left over tomatoes in a sealed jar with olive oil over the top and a bay leaf for up to 2 weeks and are a fantastic addition to salads.
What does comfort food mean to you?