Pork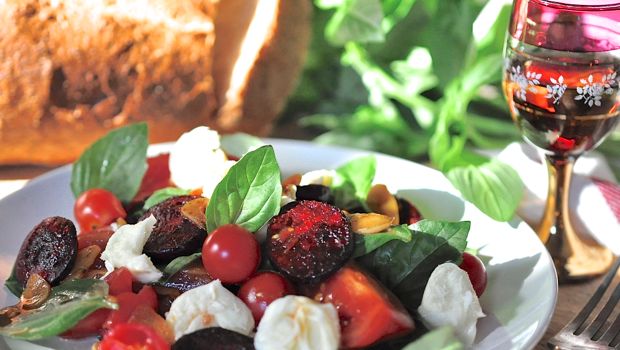 Published on April 14th, 2013 | by Gareth
0
Last of the summer salad with kick arse tomatoes
Just when I thought Sydney's meagre summer had completely fizzled, the weather gods have rallied to give us a run of spectacular sunshine. It might not qualify as an Indian Summer but I intend to wring every last drop out of it and here's the perfect salad to go with the last few bbqs; pizza salad!
Salad, wait a minute, isn't that just for rabbits, models and people trying to loose weight? It's not proper food surely and certainly not worth sharing. Turns out it is and it's damn tasty.
The original recipe came from Emma Knowles in the March edition of Gourmet Traveller, which I liberated from work (the magazine not Emma Knowles). Thanks RaboDirect ☺ I have made a few changes so it can be prepared faster and to give it a bit of a Spanish influence; for example I switched the pepperoni for chorizo and added a splash of sherry to the dressing and ditched the pizza bread croutons.
The other great thing about this salad is the tomato. Sweet, plump, ripe and juicy full of flavor; they remind me of ruby's, but unlike ruby's they are super cheap at this time of year.
Prep time: 10 minutes
Ingredients
250g fresh buffalo mozzarella or bocconcini
200g cherry tomatoes
Half bunch of fresh basil leaves
4 ripe roma, heirloom or oxheart tomatoes – cut into quarters
2 cloves garlic – finely sliced
1 spicy chorizo – sliced
1 tbsp olive oil
2 tbsp dry sherry
1 tsp red wine vinegar
1 fresh, crusty loaf, like ciabatta
Method
Add the oil to a hot frying pan and lightly fry the chorizo over a medium heat. Cook each side for two minutes.
Reduce the heat and add the garlic but don't let it brown.
Add the sherry.
Next add the quartered tomatoes, cook these and the garlic for about 2 minutes.
Remove from heat and cool for a minute or two.
Put the garlic quartered tomatoes and chorizo in a serving bowl.
Tear the basil leaves and mozzarella over the top.
Add the cherry tomatoes, I like to squash a few over the top to release some for the juice.
Finally add the red wine vinegar and lightly toss the salad.
Serve with a glass of Sav Blanc and some fresh crusty bread.
Whats' your favourite tomato recipe?