Red Meat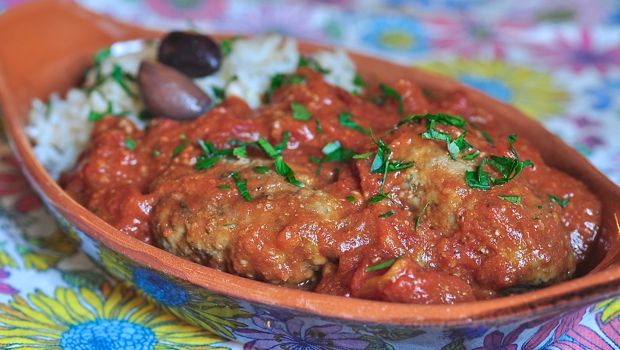 Published on April 7th, 2013 | by Gareth
4
Greek meatballs with tomato sauce – Soutsoukakia
You've had your fill of hot cross buns , chocolate eggs and bunnies; now its back to work. Yes, Easter is done and dusted for another year! However if you're Greek it's a different story.
Greeks celebrate orthodox Easter, or Greek Easter. Later than 'mainstream' Easter, this year it falls on the 5th May. It marks the end of lent, a period of fasting where dairy and meat products are not eaten. Like most religious festivals, there is feasting, oh yes! Traditional Greek Easter dishes include tsourekia, a type of bread, spit roast lamb and mageiritsa soup.
Our flat isn't really compatible for sacrificing a whole lamb to the roasting spit; I also lucked out on finding the lambs lungs, liver, heart and kidney needed for a proper mageiritsa soup. For that I need to head out to Marrickville or at least give the butcher more than a few hours notice. But I do have a Greek dish to acknowledge our Greek friends in the old country and here in Sydney; Soutsoukakia (Greek meatballs with tomato sauce) familiar territory for most as it's not massively different from Italian meatballs, which came first though? The Greek one undoubtedly as they invented everything, except the Internet and football.
At this point I am wondering how long it will take for one of my Greek friends to email me a wikipedia link mentioning how Alexander the Great played football with Archimedes as a boy. Incidentally, I went to the Alexander the Great exhibition over the long weekend, (at the Australian National Museum), very interesting.
Preparation time: 20 minutes
Cooking time: 30 minutes
Serves 4
Ingredients
Meatballs
500g minced beef – for a lighter meatball use a combination of pork & beef
½ a bunch of fresh parsley – finely chopped
2 large cloves garlic – grated
1½ onions – grated
½ cup of breadcrumbs
1 egg
1 tsp. cumin
Salt & pepper
Large Kalamata olives, optional – pitted
Plain flour
Sauce
500g tinned tomatoes/10 fresh tomatoes – roughly chopped
1/2 glass white wine, sherry also works
2 cloves garlic – crushed and finely chopped
Salt & Pepper
1 tbsp. olive oil
Large pinch brown sugar
Method 
Grate the onions and squeeze out the excess water, then put the onion in a large bowl.
Add the rest of the ingredients and mix thoroughly with your hands.
Cover the bowl and store in the fridge for about 20 minutes.
For the sauce, lightly fry the garlic but don't let it brown.
Add the tomatoes, wine, salt and pepper and sugar. Bring to the boil and simmer for 15 minutes.
If you want to thicken the sauce mix 2 teaspoons of plain flour with 5 teaspoons of water, then stir into the tomato sauce.
Take the meatball mix from the fridge; using a golf ball size portion of the mix make a thick pattie, put an olive (or even a piece of haloumi) in the middle and fold it over. Roll to make an oval with the olive or haloumi at the center.
Roll the meatballs in flour and brown in a frying pan with some olive oil on a medium heat.
Arrange in an ovenproof dish, pour the tomato sauce over, cover and put into a preheated oven (180 degreesC) for 20 minutes.
Serve with rice and a sprinkle of fresh parsley leaves.