Preserves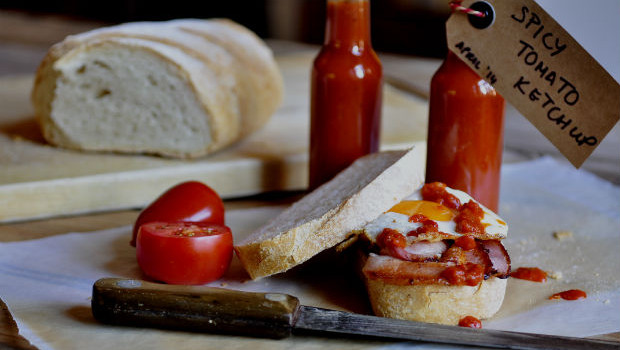 Published on April 6th, 2014 | by Gareth
1
Spicy, smoky tomato ketchup
The mornings are drawing in, there's a welcome cool breeze and the London Plane tree outside the apartment window is starting to look naked. Sydney even had a little fog this week. Winter approaches.
Perhaps it's my Anglo disposition, but I miss autumn in the Northern Hemisphere. It's a bizarre thing, most Brits dream of living in Australia, lapping up the suns eternal warmth. Clearly I am bonkers. But 15 years after leaving the flinty skies of Britain, I find myself missing the damp afternoon mist that smells of wet leaves with a hint of wood smoke, the vibrant coloured forest leaves, wearing a big coat and woolly scarf and sitting by a roaring log fire in a pub with a decent pint. This is probably why I welcome this time of year in Sydney.
Of course with the changing of the season, comes a hankering for warm hearty, substantial food…..and making soups, pickles and sauces to accompany. I'm starting with making a batch of spicy, smoky tomato ketchup.
The sauce is pretty straightforward and goes fantastically with with scrambled eggs or even better, a bacon and egg sandwich with fresh crusty doorstep slices of bread. It's not the healthiest start to the day, but once in a while it's a welcome treat.
Prep time: 20 minutes
Cooking time: 30 minutes
Equipment: Large saucepan, baking tray, chopping board, knife, sterilised jars or bottles.
Ingredients
1 kg ripe tomatoes – deseeded and halved
2 red chilli peppers – finely chopped
2 red capsicums (peppers)
1 large onion – peeled and finely sliced
3-4 cloves garlic – crushed
2 bay leaves
1 tsp. smoked paprika
1 heaped tbsp. soft brown sugar
200ml red wine vinegar (malt or cider vinegar will also work)
1 tbsp. olive oil
Method
Bake the capsicums whole along with the tomatoes for 1 hour at 180 degrees.
Heat the olive oil in a saucepan and cook the onion over a low heat for 20 minutes. To prevent them burning you may need to add a little water or some extra olive oil and stir.
Once the pepper has cooled enough to handle, scrape the burn skin off and remove the seeds and stalk. Where possible remove the tomato skins as well.
Stir in the garlic and chilli with the onion. Cook for a further 4-5 minutes, again do not allow it to burn.
Add the tomatoes, pepper, sugar, bay leaf and paprika and cook for 10 minutes.
Remove the bay leaf and blend the sauce to a fine puree. Return to the saucepan with the bay leaf, add the vinegar and simmer for 20 minutes.
Season with salt and pepper to taste.
Allow to cool, remove the bay leaf then pour the sauce into sterilised jars.