Vegetarian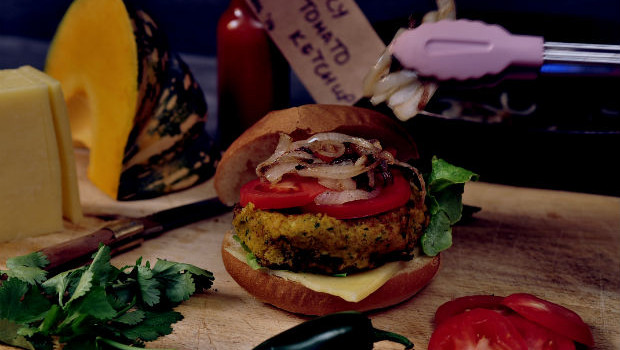 Published on May 11th, 2014 | by Gareth
0
Curried pumpkin and chickpea burger
I can be pretty irritable, even cantankerous when it comes to catering for people with an unadventurous attitude to food . I tend regard these people as narrow minded and fussy. Fine if you don't like something, but at least try it once with an open mind. Perhaps I should be less dismissive and more accepting towards  differences.
Presenting food in a familiar manner is one way I've found to navigate barriers with picky eaters. And there are probably few more internationally familiar culinary creations than the burger. Everyone like's burgers don't they?
I had my opportunity to introduce different ingredients in burger form when I barbequed Jerk Chicken, I had to cater for a vegetarian. Whilst they aren't actually fussy, I could hardly serve them up a couple of chicken drumsticks. It was the perfect chance to experiment with roasted pumpkin, onion, chickpeas and curry spices. The pattie mix tasted delicious, but it had the consistency of hummus. Nice as a dip but as soon as you try to flip it on the hotplate, you just get a yellow splodge. Useless.
I made a few tweaks intended to make it structurally sound. I partially succeeded. You can flip the burger on a hotplate, but it squishes out the sides of the bun when you bite into it. Instead, I recommend cooking this burger in the oven on a tray. The result resembles a soft, mustard coloured cookie, which although less visually appealing, it does stay intact in the bun.
Summarising my experiment, it's a good way to introduce new ingredients, flavours and textures to picky eaters, especially kids. It was also a hit with the vegetarian.
Prep time: 30 minutes (includes 20 minutes chilling time)
Cooking time: 30 minutes @ 180degrees
Equipment: Food processor, bowl, non-stick oven proof tray, oven
Ingredients 
¼ Pumpkin – peeled and roughly chopped
2 cans of chickpeas – rinsed and drained
½ onion – peeled and roughly chopped
1 tsp. curry powder (more if you want a kick to the burger)
½ cup of breadcrumbs – omit if catering for gluten intolerant
1 tsp. cumin powder
Half bunch of fresh coriander – washed and chopped
2 cloves garlic – peeled and chopped
Salt & Pepper
Method
Preheat the oven (180degrees).
Rub the pumpkin with 1 teaspoon of olive oil, season then roast until soft, approximately 25 minutes depending on the size of the pumpkin chunks.
When the pumpkin has cooled, place in the food processor with the other ingredients and pulse blend to a thick rustic paste. Depending on the size of your food processor, you may need to do this in 2 batches. I also left some of the chickpeas just roughly crushed for extra texture. If you don't have a food processor mince the garlic, finely chop the onion and mash it all up with a fork or potato masher.
Chill the mixture for 20 minutes to firm it up.
Form into patties and bake at 180 degrees for 20-25 minutes.
Serve in buns with a cheese, tomato, lettuce and mango chutney or spicy tomato ketchup
Alternatively, substitute the bread crumbs for ½ cup of greek yoghurt and 1 tablespoon of olive oil and you'll have a delicious dip.