Chicken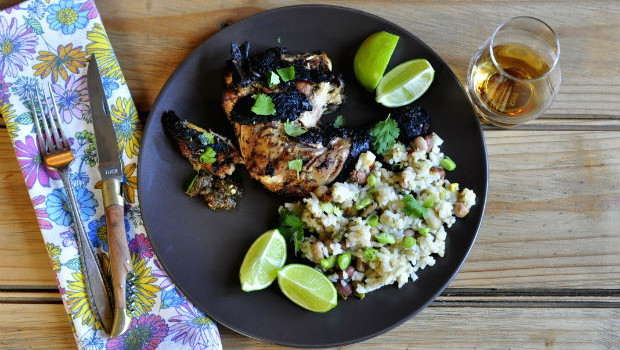 Published on May 4th, 2014 | by Gareth
3
Perfect jerk chicken
Eating Jamaican jerk chicken, in a heavy jumper to ward off the chill, drinking a glass of slivovitch (Czech plum brandy) with the Caribbean set comedy-crime TV series Death in Paradise playing in the background is an experience of contrasts. But that's exactly what I did on last night.
If you do an Internet search on Caribbean food, you'll likely see Jerk Chicken a few times in the results.  The jerk refers to a spicy rub that transforms a bland piece of chicken into a 'carnival in the mouth' experience.
Regardless of the recipe, there are 2 common ingredients in authentic jerk spice, allspice (Pimento) and Scotch Bonnet peppers. The latter can be hard to come by this time of year in Sydney, so a combination of Habanero and Thai Birds Eye may have to suffice. Other common ingredients found in a jerk rub include, spring onions (scallions or salad onions), ginger and dark brown sugar.
Cooking on the bbq is best. If you have a BBQ smoke tin, add some dried pimento berries and a few pieces of cinnamon bark to the smoker pellets and close the BBQ hood. This will help create an authentic smoky jerk flavour. No smoke tin? A small foil meat tray or an old tuna tin can does an okay job too.
Planning in advance is key to good jerk chicken. Although you can get away with marinating for a few hours, you'll definitely be rewarded for marinating the chicken overnight.
Prep time: 8hrs to overnight
Cooking time: 30 minutes
Equipment: Food processor (or pestle & mortar), BBQ
Ingredients
1 whole chicken – butterflied.
1 bunch of spring onions – washed and roughly chopped
2- 3 Scotch bonnet peppers – depending on how much heat you like
1 ½ tbsp. soft brown or muscavado sugar
1 tbsp. allspice
1 tsp. cinnamon powder
2 tbsp. fresh orange juice
Juice and zest of 2 limes or 2 tbsp. cider vinegar
1 tbsp. fresh thyme leaves
1 tsp. soy sauce
2 cloves garlic
½ tsp. Cumin powder
½ tsp. salt
½ tsp. black pepper
1 tsp. crushed ginger
½ tsp. paprika
1 tbsp. olive oil
Method
Put all of the ingredients (except the chicken) in a food processor or pestle & mortar. Blend to a paste.
Rinse the chicken in cold water and pat dry.
Make slashes in the breast and thigh meat.
Put some plastic gloves on and rub the jerk spice into the meat, especially the cuts. Alternatively put the chicken into a large zip lock bag, pour the jerk spice in and massage it in.
Cover the meat and pop in the fridge overnight.
Cook on the bbq or a griddle pan for approximately 15-20 minutes each side.
Serve with Caribbean rice and beans.
I've not yet been to the Caribbean, but when from the travel shows, it looks like a colourful part of the world, (and warmer than Sydney Town right now). Strangely, I've never seen anyone drink or order slivovitch in any of the shows but like this recipe, it does a fine job or warming you up.