Chicken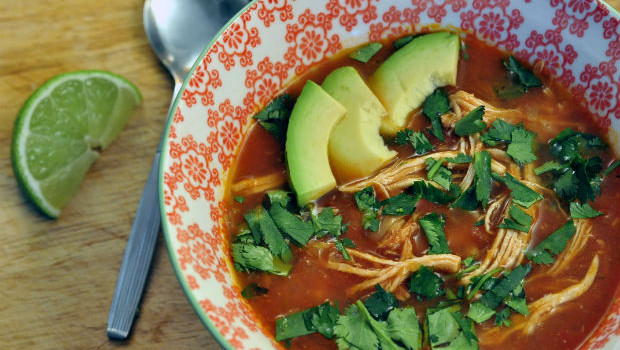 Published on September 16th, 2014 | by Gareth
2
Mexican Chicken and lime soup
Sprimmer has arrived in Sydney town, (that's Spring with a bit of Summer). It's definitely starting to warm up, but arguably not quite enough for all the summer barbeque favourites, (think seasonality for a start).
It almost feels like we're "in between" seasons, its not cold enough for a hearty soup or roast, but it's not warm enough for a chilled Gazpacho. Such weather calls for the Swiss Army knife of dishes, a real all rounder, cue Mexican chicken and lime soup.
I first saw this recipe on Budget Bytes and have since made it several times with minor tweaks, it tastes too good not to share. The chicken and toasted flatbread make it filling but not heavy. The lime and coriander make it wonderfully fresh. Plus, here are a few of the health benefits of some of the ingredients:
Lime
Helps protect eyes from ageing, aids digestions, helps prevent heart disease.
Coriander
Aids digestion, lowers blood sugar, reduce cholesterol, helps keep skin healthy
Celery
The magnesium and essential oils can reduce stress levels, reduces blood pressure and can even boost arousal levels when you munch on the raw stalks.
Prep time: 5 minutes
Cooking time: 1 hour
Equipment: Stockpot, knife, chopping board, and wooden spoon
Ingredients
2 stalks of celery – washed and finely chopped
1 onion – peeled and finely diced
3 cloves garlic – peeled and finely sliced
1-2 chilli peppers  (Jalapeños or Birds Eye)– deseeded and finely sliced
1½ litre. chicken or vegetable stock
1 large can of plum/Romano tomatoes
Juice and zest of 1 lime
1 large chicken breast – deskinned
½ cup fresh coriander leaves (finely chop the stalks too)
1 tsp. cumin powder
½ tsp. oregano
½ avocado – peeled and sliced
Directions
Heat a tablespoon of olive oil in a large saucepan or stockpot. Add the onion, chilli, garlic and celery and cook for 5 minutes over a low heat.
Add the can of tomatoes, cumin, oregano, coriander stalks, stock and lime zest and bring to the boil.
Add the chicken breast (whole) and reduce the heat. Cover and simmer for 1 hour. After 45 minutes, remove lid to allow it to reduce a little.
After 1 hour, remove the chicken and shredded it with 2 forks, (drag them through the chicken in opposite directions).
Grill some flat bread (pita bread), until it's dry, firm and brittle.
Return the chicken to the soup, add the lime juice and freshly chopped coriander.
Serve the soup into bowls, then break the bread up into small piece and sprinkle over the soup.
Add the slices of avocado, extra chilli (optional) and eat while hot.