For the Kids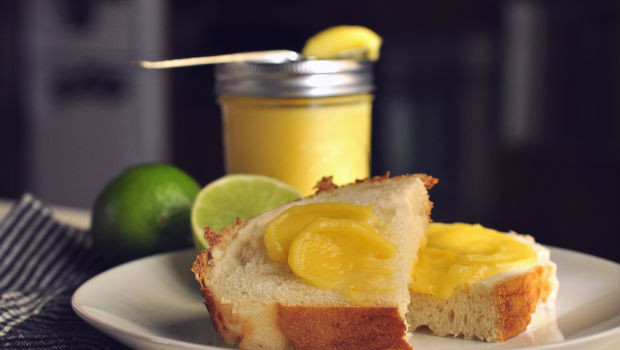 Published on February 16th, 2015 | by Gareth
2
Lemon & lime curd
In between having a rant to about the state of the world (Ukraine, terrorism anthropological climatic change and the cost of good cheese in Sydney) and tending to the needs of Lord Poo Farty, I decided I needed something sweet.
Jam is my default for such hankerings, but have you tried finding decent apricots or black Doris plums lately?  Bloody SFLA again I bet, (Stone Fruit Liberation Army).  Limes were a good price, so I decided on making a lemon and lime curd, but not like the additive laced, cloying crap you get in the supermarket. I wanted something refreshing, natural and sweet but with a zingy hit.
After a few experiments, I took the best of two recipes and came up with my own recipe for lemon and lime curd (thanks to Hairy Bikers and thecookspyjamas for inspiration).
Prep time: 10 minutes
Cooking time: 20 minutes
Equipment: 5 x 250ml jars, large heavy based saucepan, large Pyrex bowl, electric whisk/beater thingy
Ingredients
150ml lime juice (3-4 limes)
50ml lemon juice (about ½ lemon)
Zest of 1 whole lemon
Zest of 2 limes
4 whole eggs  (free range if possible)
1 egg yolk
150g butter – diced into small cubes
220g caster sugar
Directions
Sterilise the jars and their lids – Wash in warm soapy water and rinse, heat the jars in the oven at 180 degrees for 10 minutes and boil the lids in a pan of water for 5 minutes.
Set the jars aside to cool a little, once sterilised
Whisk the egg and sugar, in the Pyrex bowl until an even pale yellow colour.
Half fill the saucepan with water and put the Pyrex bowl over the water. The bowl will need to be larger than the pan so it doesn't drop down. This is because you need to avoid getting any water in the bowl.
Gently heat the water to boiling point, then reduce heat and simmer. As the water heats, whisk the egg continuously, adding the butter cubes as you go.
When the butter has melted, add the lemon and lime juice plus the lemon zest.
Continue to whisk (otherwise it will start to over cook and you'll end up with citrus scrambled egg).
After about 10-15 minutes, it will begin to thicken. Add the lime zest (this will help maintain the bright green of the zest). Heat and continuously stir for a further five minutes.
When the lemon & lime curd is thick enough to coat the back of a metal spoon, it's ready to go in the sterilised jars.
Ladle the curd into the hot jars and put the lids on.
Chill in the fridge to set then serve.  Tastes great on bread, with Greek yogurt or as a base for lemon meringue pie
The lemon & lime curd will keep for approximately 2-3 months in sealed jars in the fridge.