Preserves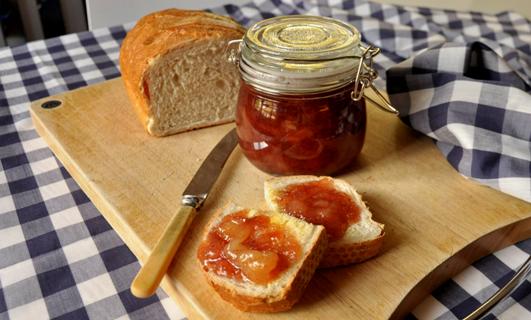 Published on February 18th, 2012 | by Gareth
2
Nectarine and Vanilla Jam
Biting into a succulent ripe nectarine is a truly satisfying experience. For some reason when I think of nectarines and peaches they conjure up visions of Romans lounging about eating segments of the fruit whilst musing over scantily clad dancing girls. A sweet nectarine is pure indulgence…and is best enjoyed wearing a toga. I think I should stop watching  Spartacus.
What better then, than to combine a glut of these magnificent fruit with another very decedent ingredient; vanilla! Instead of making a sophisticated tart or a heavy cake I opted for something far simpler and made jam. I have always enjoyed jam and  wanted to capture my childhood memories of coming home from school and enjoying a slice of bread and jam before running out to play in the sun (as I grew up in England, it was probably more like play in the rain though).  The result is a jam so velvety smooth it's almost creamy in texture. Nectarine and vanilla jam is bread and jam for grown ups.
Ingredients
1 kg white or yellow nectarines
800gm raw sugar
Juice of ½ lemon
2 vanilla pods
Jam setter (optional)
Method
Steralise the jam jars by washing them in hot soapy water, rinse, drain then put them in the oven for 10 minutes at 150 degrees.
Wash and peel the nectarines. You can blanche them but I find peeling is less messy with soft stone fruit.
Put the nectarines in a large heavy saucepan. You are supposed to use a preserving  pan but I used a 7 ltr stock pot.
Add the lemon juice, cover with the pan lid and put over a medium heat for 5 minutes.
Add the sugar and remove the lid. Allow the sugar to melt slowly.
Once the sugar has melted add the vanilla pods and stir. Reduce the heat and simmer until the fruit has softened.
Once the nectarine flesh begins to easily come away from the stone increase the heat as high as possible and boil for 5 minutes.
Stir occasionally but take care not to get splashed as you will get a nasty burn.
Remove the pan from heat and test the jam is ready by putting a teaspoon of jam on a cold plate and leave to cool. If the jam has set it will crease when you push a finger through it. If it has not set return the pan to the heat.  At this point I sometimes add extra pectin by using powdered Jam Setter (available form the supermarket).
Once set remove from heat and spoon into jars, put the lids on immediately and leave to cool.
Serve with fresh bread or on toast.