Desserts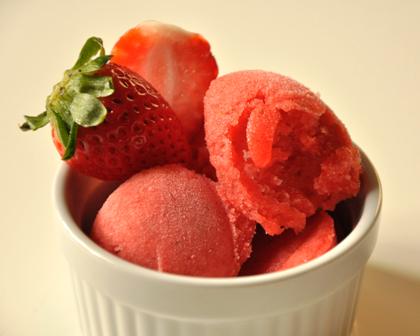 Published on August 28th, 2011 | by Gareth
0
Vanilla and strawberry sorbet
I'm loving how plump and sweet strawberries are right now.  The waft of intense ripe strawberry that you
are treated to when you pick up a punnet is mouth watering. It instantly triggers thoughts of warm weather, delicious desserts and Pimms. 
This and the fact that I now have an ice cream machine is a culinary marriage blessed by the food gods.  Sorbets are a fantastic way of using delicate flavours, strawberry and vanilla being two old favourites of mine.  The original recipe (by Alex Barker) calls for the juice and zest of a whole orange but I wanted the strawberry to be the hero, so reduced it by half.
Ingredients
500g strawberries
225gm sugar (caster sugar is ideal but normal granulated or
raw sugar is fine)
250ml water
1 vanilla pod
2 tsp lemon juice
Juice of half an orange
 Method
Heat the water in a pan and add the sugar. Bring to the boil, reduce heat and simmer for 5 minutes.
Remove the sugar syrup from the heat.
Add the vanilla pod (I cut a slit lengthways in the pod to release the vanilla seeds). Allow this to infuse for 20 minutes.
Wash and hull the strawberries, then puree in a blender.
Pour the puree through a sieve to remove most of the
strawberry seeds.
Once the sugar syrup has cooled combine it with the orange juice, lemon juice and strawberry puree.
If you have an ice cream maker follow the manufacturers instructions from here.
If not pour it into a sealed freezer proof container and chuck it in the freezer. Remove every 2 hours to thoroughly blend it with an electric whisk or even a fork. Churning is a vital part of the process to ensure smooth sorbet or ice cream. Repeat this several times until you have a firm sorbet.
Scoop and serve with fresh strawberries.
I think my next icy dessert will have to be white chocolate and strawberry ice cream. I am also experimenting with a Pimms sorbet (complete with cucumber, mint and strawberry).
Ice cream or sorbet?….and whats your favourite flavour?