Desserts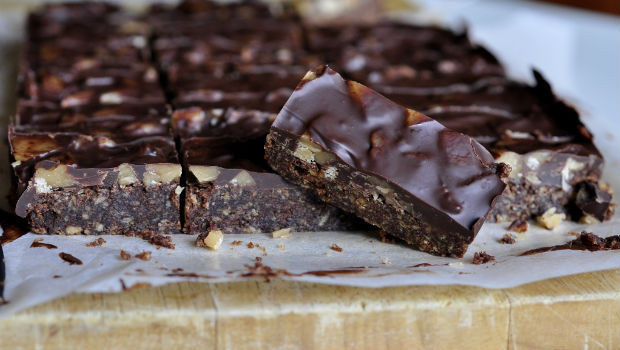 Published on September 21st, 2014 | by Gareth
6
Dark chocolate salted caramel slice
Last week's Chicken & Lime soup was incredibly healthy and nutritious, so to maintain a balance, this week is all about indulgent and naughty.
I wanted to create my own chocolate bar, but not the sickly sweet kind that you see sticky faced kids scoffing. My inspiration came, once again from Heston B, (I've recently been watching Heston's Great British Food series on SBS) and a recipe from my mother-in-law.
This is a grown up version of a Twix, haven't decided if it's a bar or a slice yet.  What is the difference? The biscuit base has been given a charge of cocoa, the caramel is smashed salted caramel and it's topped with a decadent layer of dark chocolate. Salted caramel aside, this is very straightforward to make and is a fantastic companion to coffee (or even a whisky). Ironic that something with such a feel good factor should be treated in moderation

What I really like about the recipe is that it's more adaptable than Bear Grills. Don't like dark chocolate? Switch it out for white or milk chocolate. Salted caramel not your thing? Change it for dried cranberries and pistachios or raisins and almonds. Want a crunchy biscuit base? Roughly break the biscuits; rather than blend to a fine crumb, it's that easy
Prep time: 60 minutes (includes refrigeration time)
Cooking time: 15 minutes (to make the caramel and melt the chocolate)
Equipment: Food processor (not essential), Saucepan, 20cm x 10cm baking tray, Pyrex dish, spatula
Ingredients
Salted caramel
1 cup caster sugar
1 cup pouring cream (at least 35% milk fat)
60g butter
½ cup glucose syrup (important as a stabiliser)
1 tsp. sea salt flakes
Cocoa biscuit base
250g Arrowroot biscuits (Marie, milk biscuits and Oreos without the filling also work)
35g cocoa powder
100g caster sugar
180g butter (unsalted)
1 egg
Topping
220g dark chocolate – broken into small pieces to melt for the topping
Directions 
Salted caramel
Heat the sugar, glucose syrup and butter until it begins to melt over a medium heat. When the butter has melted, pour the cream in, (be careful, it may spit or froth up due to the temperature difference). Stir until combined and bring to the boil. If you have a sugar thermometer, bring the caramel up to 114 degrees C over a medium heat. Take care not to burn the mixture and don't stir it.
When it has reached 114 degrees C pour the liquid caramel onto a tray lined with baking parchment. Sprinkle the salt on top and smooth out with a palette knife until it's the thickness of a $1 coin, then pop in the fridge to set.
Cocoa biscuit base
Line a 20cm x 10cm baking tray with baking parchment and set aside.
Put the cocoa powder, caster sugar and butter into a pan and gently heat until melted, then remove from the heat.
Blend the biscuits to a fine crumb, less fine if you like more crunch. If you don't have a food processor a plastic bag and rolling pin work just as well.
Lightly beat the egg in a bowl, then stir into the cocoa butter mix.
Mix the biscuit crumbs with the melted butter, sugar and cocoa. Press the mixture firmly into the lined baking tin,
Allow to cool and then pop in the fridge for 20-30 minutes.
Topping
Melt the chocolate in a Pyrex bowl either in the microwave or oven.
Remove the biscuit base and salted caramel from the fridge. Smash the caramel into small shards with a sharp knife then sprinkle of the biscuit base.
Now pour the melted chocolate over the top, press/smooth down with a palette knife. Chill the slice for 30 minutes- 1hour in the fridge.