Desserts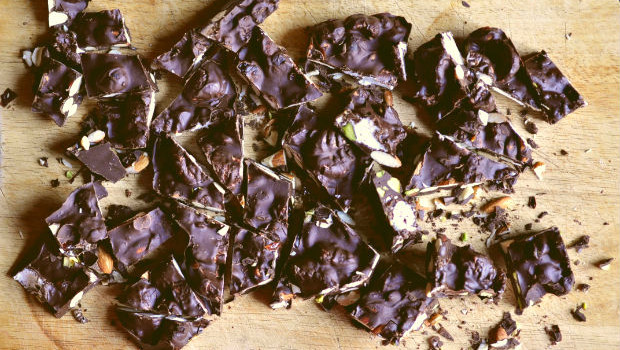 Published on June 28th, 2015 | by Gareth
2
The only rocky road recipe you'll ever need
According to a guide that Nina has on stress management and living well, random acts of kindness reduce levels of stress. Makes sense, an act of un-prompted kindness to another makes you feel good.
In fact research has shown, that such acts have a positive effect on the immune system and boost the production of neurotransmitter, serotonin. Serotonin helps balance mood and is thought to also have an effect on appetite, digestion, sexual desire, memory and sleep.
So there you have it, a daily random act of kindness can not only lower stress but also make you a bit 'randy'.
A while back I did a post on foods that can help boost serotonin production, two of those being dark chocolate and nuts. Both of which are important ingredients in my somewhat luxurious and indulgent rocky road recipe. Wanting to practice what I post, I made a batch for some friends recently (my random act of kindness) and thought it time I share the recipe. So here you go, probably the only rocky road recipe you'll ever need to chase away the winter blues.
Prep time: 15 minutes
Cooking time: 0
Time to set in fridge: 1 hour (ish)
Equipment: 1 heat proof bowl, saucepan, mixing bowl, 20cm baking tray
Ingredients
250g dark chocolate (min 45% coca solids) I used Cadburys Old Gold (70% cocoa solids) – roughly broken up
150g milk chocolate – roughly broken up
100g marshmallows – chopped in half
60g pistachio nuts
150g almonds – roughly chopped
150g glace cherries
1 cap full of brandy (just use the lid of the bottle)
Directions
Line a 20cm-baking tray with baking parchment (I used my brownie tin which is reasonably deep).
Make a bain-marie (water bath to melt the chocolate). To do this, half fill the saucepan with water, so that when you put the heat proof bowl in it sits on top of the saucepan but the bottom of the bowl, touches the water.
Put the broken chocolate in the bowl, but don't let it come into contact with any water.
Put the nuts, marshmallows and cherries in the mixing bowl.
When the chocolate has melted stir in the brandy then add to the nut mix. Stir until everything is coated in chocolate, spoon into the lined baking tray.
Transfer to the fridge for about an hour until set hard.
Chop up and serve…..or give to others.
So have you done a random act of kindness today?