Desserts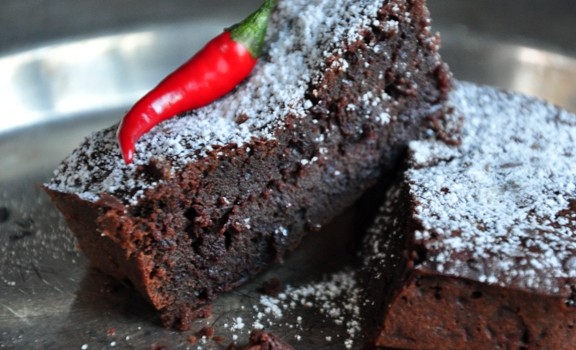 Published on May 24th, 2012 | by Gareth
14
Chocolate beetroot and chilli brownies
Life is full of ups and downs and just recently I have been feeling a bit glum. This got me thinking about how the body, brain and nervous system can respond to different types of food. I find it fascinating that certain foods can boost energy levels, impact how alert we are and even trigger memories that can transport us back to our childhood. It's interesting how different foods and their aroma's can influence our moods. Take comfort foods for example, we all know that comfort foods can elicit emotions such as happiness but it is why they can evoke this response that interests me most.
In short it is down to chemistry. When the body releases endorphin and serotonin it lifts our mood, it makes us excited and happy. But that's nothing new. However did you also know that endorphins act as natural pain relief and serotonin regulates sleep and appetite? Both are neurotransmitters that are found in the central nervous system and some food favourites prompt the release of both. Chocolate is one that I already knew about, but dark chocolate with high cocoa solids, not the sugar rich namby pamby milk chocolate stuff. What I didn't realise was that beetroot can also increases our serotonin levels.
So when I came across Hugh Fernley-Whittingstall's recipe for a chocolate beetroot brownie I was intrigued. As a kid I hated beetroot after an incident involving the reappearance of a beetroot and ham salad I had eaten. However anyone who has read some of my blog posts will know that I am now a champion of the crimson beet. It's packed with anti-oxidants, good for the liver, lowers cholesterol, reduces blood pressure, is packed with nutrients and has a low glycaemic index. It's an un-beetable superfood, (sorry, couldn't resist). I therefore think it makes these brownies a little healthier.
Like so many of the recipes I find though I couldn't resist modifying it just a little. So I added chilli to the recipe, which also helps the natural release of endorphins making these brownies seriously good. The result was a relatively light, moist, smooth, slightly earthy and uplifting snack with a bit of a kick. Safe to say it makes you feel splendid!
To give this post an even greater feel good factor I have set myself a challenge, 5 different types of brownie in 5 days. Madness? The reason for such a cakethon is to help the Australian Red Cross Blood Service staff raise money for The Cancer Council's Biggest Morning Tea. Both charities do terrific work and I encourage everyone to support them by taking part and if you can, give blood – they will give you a drink and a biccy afterwards too. Naturally I will share the recipes of all the brownies.
Ingredients
250g dark plain chocolate (70% cocoa solids – the Chuck Norris of chocolate)
250g unsalted butter cut into cubes – to be healthier you could reduce this to 200g.
250g beetroot
3 eggs
200g caster sugar
50g dark brown sugar
150g plain flour
1 tsp chilli powder
1 x deep(ish) baking tin 30 x 20cm
Method
Preheat the oven to 180 degrees C.
Wash the beetroot and cut the stem about 2 inches from the root of the beet.
Put it into a pan of boiling water or steam (skin on). Cooking time will vary from 20 minutes to 1 hour depending on the size of the beetroot. Use a skewer to check if it is cooked, when it is soft remove from heat and allow to cool.
Combine the butter, brown sugar and  chunks of the chocolate in a bowl and roughly mix together.
Now start to melt these ingredients together. The easiest way to do this is put it into a Pyrex bowl and put into the oven until melted. Alternatively you can use a bain-marie, I recommend the former and save yourself the hassle.
Peel and grate the beetroot.
When the choccy mix has partially melted remove from the oven, stir and return to oven until fully melted, then remove.
Mix the caster sugar and eggs in a seperate bowl, lightly whisking until creamy.
Add the chocolate mix to the sugar and egg mixture then gently fold.
Sift the flour and chilli powder in and fold.
Finally fold in the grated beetroot.
Pour in to the baking tin (don't forget to grease up that baby first though).
Bake for 25 minutes or until the skewer comes out clean and crumby.
Allow to cool on a baking tray.
Finish with a dusting of icing sugar. For a final hit of heat add a good pinch of chilli powder to the icing sugar.