Preserves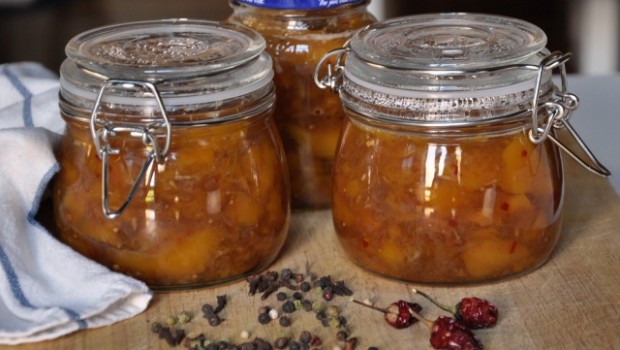 Published on December 2nd, 2010 | by Gareth
3
Spicy Mango Chutney
It's a bit late and I am tired but I really wanted to share my latest experiment of jammy spicy chutney goodness. Plus make it now and you should hopefully still have some left for Christmas. That said I have already used up one jar. I can feel it right now, beckoning me to slather it all over some crackers with a knob of goat's cheese.
I don't think I know many people who don't like mango chutney especially spicy mango chutney. This combined with the fact that it always seems pretty expensive in the shops AND its mango season in Sydney town equals homemade condiments! Something my Nan would have been proud to hear. The original recipe came from Jamie Oliver's
 'jamie' magazine (which is quite a good read, even better when someone nice gives you the subscription as a present, thanks Sis!).  I have changed the recipe quite a lot; maybe this means I can claim this as my own?
Ingredients
Makes 4-5 jars
5 medium/large sweet mangoes
1 large Granny Smith's apple – peeled and roughly chopped
1 large red onion diced as finely as you can manage
1 clove garlic grated
2 tsp fresh grated garlic
8 cloves
3 fresh chillies, I used Thai bird's eye chillies
300ml malt vinegar
150ml cider vinegar
3 small bay leaves
500gm raw sugar
2 tsp mustard seeds
½ – 1 tsp chilli flakes adjust to taste.
1 ½ tsp black pepper corns.
1 packet of jam setter pectin.
Start by sterilising the jars.
Peel and chop the mango cheeks (soft edible part) and set aside.
Put the pepper corns, chilli flakes, cloves and vinegar in a heavy based saucepan and heat.
Add the onion and bay leaves.
Bring to the boil and simmer for 10 minutes.
Add the mustard seeds, ginger and garlic.
Simmer for another 2 minutes.
Add the fruit, (apple and mango).
Simmer until the fruit is soft but still chunky.
Add the sugar and the fresh chillies.
When the sugar melts bring to the boil.
Stir occasionally being careful not to break the fruit up.
Reduce heat and simmer until the chutney thickens.
If it doesn't thicken then add half a sachet of jam setting mix and re-boil.
Pour the chutney into jars and allow to cool, store in a cool dark cupboard. The mango chutney will keep for 2 weeks in the fridge once opened, but you will eat before it goes off. Also make great gifts.