Red Meat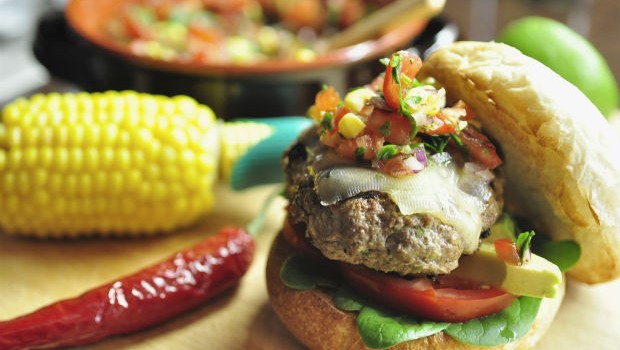 Published on August 11th, 2013 | by Gareth
2
Mexican burgers with corn, lime & tomato salsa
I want to talk national flavours, specifically what's the national flavor (not dish or produce) of Australia?  By flavour, I mean the herbs and spices that influence the national cuisine.
Here's a few examples: Italy is associated with oregano and basil. Hungary is all about the paprika (as is Spain). France is parsley, garlic and tarragon. When you think of Thai food you think of fragrant ingredients like lemongrass, coriander (cilantro for the US), chilli and ginger.
But when I tried to answer, what flavor is Australia, I got a bit stuck. In fact I had the same problem for the US and New Zealand. There's an abundance of dishes you associate with these countries, but flavours, that's harder.
Australia is such cultural melting pot, they don't have a single identity in the herbs and spices stakes. Melbourne is heavily influenced by Europe. In contrast Sydney takes much from South East Asia. Basically there are too many flavours and as meat pie or prawns don't class as a herb or spice, I don't have an answer, so what do you think?
Anyway, last week, I made burgers. I wanted to keep it interesting, so took inspiration from Kiwi Chef, Al Brown and applied national flavours to a BBQ favourite, (he applied national notes to the burger in his book Stoked). He covered Indian, Japanese and Italian. I can now add Mexican to the list, a Mexican burger with a corn, lime and tomato salsa.
Preparation time: 15 minutes
Cooking time: 10 minutes
Ingredients
Burger patties
500g minced beef
1 egg
½ cup breadcrumbs
1 tsp. chipotle chilli powder
1 tsp. toasted and ground cumin seeds (cumin powder is fine).
1 small red onion – very finely chopped
½ tsp. paprika
½ tsp. chilli flakes
Small bunch of coriander – finely chopped
1 clove of garlic  (optional) – crushed into a paste
 Burger buns
Iceberg lettuce, tomatoes, fresh mint and coriander for the burger salad.
Corn and tomato salsa
3 ripe tomatoes – roughly chopped
½ cup of frozen sweet corn kernels
Small bunch of fresh coriander – finely chopped
½ red onion – finely chopped
1 fresh red chilli – finely chopped, deseed if you don't want it too hot.
Juice ½ lime
Method
For the burgers combine all of the ingredients by hand. Pop in the fridge for 20 minutes to bring the flavours together.
Take a small handful of the mixture and form into a tight ball, and then throw it down onto a chopping board or the kitchen bench. It makes a satisfying slap and makes near perfect pattie shape. You may need to use a palette knife to lift it off the bench.
Stack the patties with squares of baking paper so they don't stick.
Cover and keep in the fridge until 20 minutes before cooking.
To cook put them on a hot bbq or searing hot oiled griddle pan. Cook for a max of 5 minutes per side (depends on the pattie thickness and how well you like your beef done).
Same approach for the salsa, combine all of the ingredients in a bowl. Allow the flavours to blend for about an hour.
Serve on top of the burger with the bun and salad.
What's you national flavour?