Chicken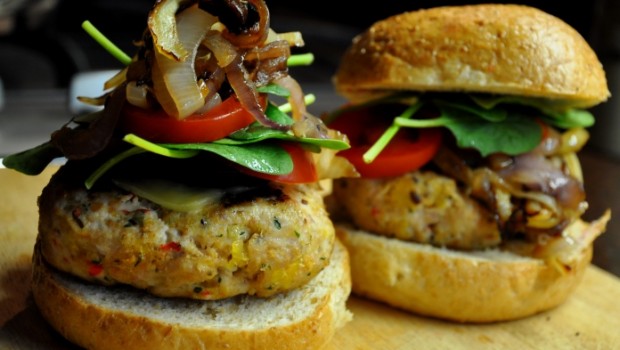 Published on October 18th, 2010 | by Gareth
Chicken burgers with spicy wedges
Have you ever had one of those desires for a specific type of food or meal?  Of course you have.  Mine is often cornflakes with ice cold milk, so who fancies a bowl of cornflakes now?  Any way I had a need for a good chicken burger but not the sort that you get from the fast food takeaway, something that isn't plastic, something with some real flavour.
I was pretty pleased with this recipe for a "gourmet chicken burger", I cooked them in the pan but they would be perfect for the barbeque, especially if it was a charcoal fired one.  The wedges were dead easy, taste great and surprisingly healthy.
Ingredients
Chicken burgers
500gm minced chicken (free range if available)
2 ½ cups of wholemeal bread crumbs (about 4 slices of bread)
1 red onion, diced
1 chilli, diced
Zest of 1 lime
5 semi dried apricots
1 clove garlic, chopped
1 handful of fresh sweet basil
½ tsp ground coriander seeds
½ tsp chilli powder
Salt & pepper
To serve:
Fresh bread rolls, Turkish bread or burger buns
Baby spinach leaves
2 onions, 1 red 1 brown
Mozzarella or Jarlsburg  cheese, thinly sliced
Beetroot (cooked but not in vinegar)
Sweet chilli sauce
Potato Wedges
2 large potatoes
1 tsp dried rosemary
½ tsp salt
½ tsp fresh ground pepper
½ tsp cayenne pepper
½ tsp cumin
1 clove garlic
1 tsp olive oil
Chicken burgers
Preheat the oven to 180 degrees.
After reading the ingredients on packets of ready-made breadcrumbs I have always preferred to make my own, (did you know they contain tuna oil of all things?).  Pop 4 slices of wholemeal bread (white will also do) into the blender for a few minutes until crumbed.  Stale bread works best, but not mouldy.
Now add the remaining burger ingredients except the chicken.  It pays to roughly dice the apricot first.  Pulse a few times then blend for about 5 seconds.  You want the mixture all about the same size, but don't blend it for too long otherwise it with turn into a soggy pulp.
Transfer to a bowl and add the chicken, this is where it gets messy.  Mix together so everything is evenly distributed.  Cover and transfer to the fridge for 15 minutes or until you are ready to cook.  This gives all the flavours a chance to come out.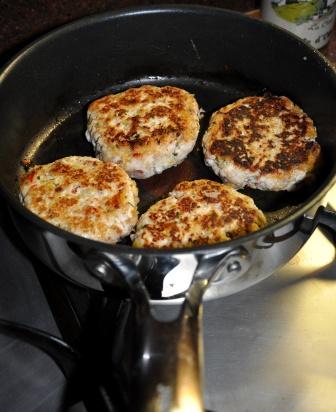 Potato Wedges
Cut 2 large (clean) potatoes into wedges, they shouldn't be any more than 1 ½ cm thick.  Place them in a saucepan of boiling water for 4-5 minutes.  Whilst they are boiling mix all the herbs and spices together in a pestle.  Drain the potatoes and arrange on an oven tray.  Sprinkle the olive oil on the potatoes ensuring they are evenly coated.  Sprinkle the spice mix making sure all surfaces are coated then transfer to the oven for 20 minutes.
Chicken Burgers and fried onions
Slice the onions and add to a saucepan pan with olive oil on a low heat for 20 minutes.  Cover to allow to sweat for the first 10 minutes.  Stir regularly to prevent burning.
Remove your chicken burger mix from the fridge and mould into to patties about 8-10cm in diameter and no more than 2cm thick.
Add a lug of olive or canola oil to a frying pan on a medium heat.  Cook the patties for about 5-8 minutes each side or until cooked thoroughly.  Move them around and flip to ensure they don't burn.  If they are cooked before the wedges are ready wrap them in foil and keep them warm at the bottom of the oven.
Serve and enjoy with chilli sauce, beetroot, tomato.