Vegetarian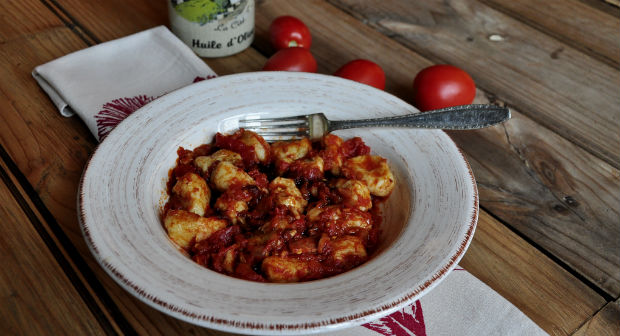 Published on November 18th, 2013 | by Gareth
2
Gnocchi with tomato and balsamic sauce
As part of a recent work team day, I participated in a Myers Briggs psychometric test. It basically involves answering a series of questions that are designed to reveal your psychological preferences or 'type'. By having a better understanding of your colleague's personality and how they like to work, you can improve how you work with them. I self assessed myself (part of the exercise), as an introvert. Most of the people in the introvert group felt otherwise. In truth, I'm almost equal introvert and extrovert. I'm a fence sitter.
And this is how I feel about today's recipe, gnocchi. It's the 'other' Italian carb, feels like it should be a type of pasta even though it isn't, it bathes in the same sauces, gets presented in the same tableware. Neither veg nor pasta, gnocchi is a fence sitter too. But there is one key difference, it's much easier to make than pasta.
Prep time: 15 minutes
Cooking time: 1hr 10 minutes (includes time to bake the potato)
Ingredients
Gnocchi
600g floury potatoes
1 egg yolk
100g plain flour – sifted
1 tbls. Parmesan cheese
Salt and pepper
Sauce
1 kg plum/roma tomatoes – seeds and skin removed (optional), roughly chopped
1 can tomatoes
1 tbsp. tomato paste
1 shallot – finely chopped
2 clove garlic – crushed and finely chopped
1 large bay leaf
1 rasher of streaky bacon or prosciutto – roughly chopped (optional)
1 tsp. brown sugar
1 tbsp. balsamic vinegar (optional)
Method
Heat a tablespoon of olive oil in a pan and cook the bacon until it begins to brown.
Reduce the heat and add the garlic and shallot. Cook for a minute or two. Do not allow to brown.
Add the bay leaf, tomato paste, sugar, fresh tomatoes and canned tomatoes.
Bring to the boil then lower temperature, simmer and reduce the sauce for 40 minutes.
Wash and bake the potatoes for 1 hour at 180 degrees'. Remove from oven and allow to cool for 10 minutes.
Bring a large saucepan of water to the boil.
Cut the potatoes in half and scoop out the white potato, this should give you about 300-400g of potato. Discard the skins.
Ideally put the potatoes through a ricer or a medium sieve. Mashing tends to make for heavier gnocchi. If you don't have a ricer or suitable sieve, use a fork.
Stir the egg, Parmesan, flour and seasoning into the hot potato.
This will form into dough; add a tablespoon or two of flour if it's still too wet.
Put the dough onto a

lightly

floured surface and roll into a sausage shape.
Cut into 2cm pieces and make an indent in the middle of each piece with your finger. Alternatively, roll each gnocchi piece, down the inside curve of a fork. This will create ridges for the sauce to stick to.
Add the gnocchi, 20-30 pieces at a time, to the boiling water.
When the float, it means they are cooked, remove with a slotted spoon and allow to drain in a colander.
Add to a bowl and spoon the tomato sauce over.
Garnish with chilli flakes, fresh basil leaves, Parmesan or pesto.
Whats your favourite, pasta or gnocchi? And do you ever feel like you sit on the fence?