Chicken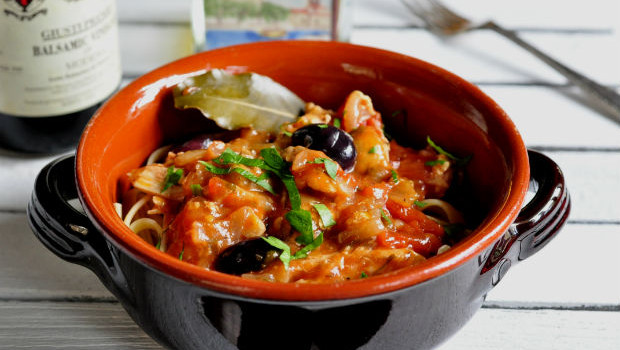 Published on June 23rd, 2015 | by Gareth
0
Chicken Cacciatora – a simple winter warmer
The last three weeks have been a bit of blur of work and family stuff. This is partly because we were in final stages of a major website build at work and partly because Lord Pooh Farty has been keeping us up all hours, (in my mind his cries translate to "dance monkey, dance" followed by a Bond villain style laugh), but that might just be due to the lack of sleep.
As a result I've been pretty much all in, my eyes look like two holes in the snow. As such, I'll keep this post short and get to the good part, the recipe.  Following my last post on making mozzarella, I'm keeping with the Italian theme with an old favourite, "hunter style chicken". This is more popularly known as, Chicken Cacciatora. This dish is worthy of the phrase winner winner chicken dinner.
Chicken Cacciatora is a great winter warmer that uses basic ingredients. The two pot approach also means less time washing up afterwards and more time with family and friends, (with a stove top casserole dish it can be a one pot affair).
Prep time: 15 minutes 
Cooking time: 35-40 minutes
Equipment: Frying pan, casserole dish with a lid
Ingredients
1 whole chicken – cut down to 2 thighs – bone in, 2 drumsticks, 2 wings, 2 boneless breasts

2 x 400g cans of whole tomatoes

½ cup dry white wine

12 olives

1 stick of celery – finely chopped

1 large onion – peeled and finely chopped

150g button mushrooms – sliced

3 cloves garlic – peeled and crushed

2 slices of smoked bacon – rind removed, diced

1 sprig of fresh rosemary

1 tsp. dried oregano

1 Bay leaf

Olive oil
Directions
Preheat the oven to 180 degrees

In the frying pan, heat a splash of olive oil and lightly brown the chicken pieces over a medium heat. Brown one or two pieces at a time to prevent the chicken braising in it's own juices. When browned, transfer to the casserole dish.

Add a little extra olive oil to the frying pan and cook the onion and celery.

 

Cook over a low heat until the onion begins to caramelise (about 10 minutes).

Add the garlic and the bacon and cook for a further two minutes.

Transfer the garlic, onion, celery and bacon to the casserole dish and deglaze the frying pan with the white wine, then pour into the casserole dish.

Add the herbs, olives, tomato, mushrooms and a little seasoning, stir put the lid on and transfer the casserole dish to the oven.

Cook for 20-25 minutes until the chicken is cooked all the way through and tender.

If the sauce is too thin, remove the chicken, stir in 1 teaspoon of corn flour and reduce the sauce over a medium heat.

Serve with tagliatelle.