Pork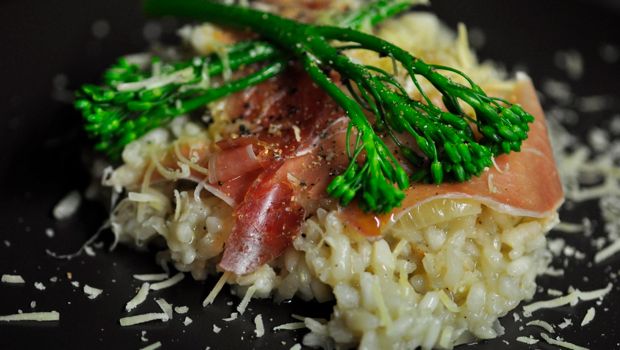 Published on January 28th, 2013 | by Gareth
3
Rainy day food – Risotto with Broccolini and Serrano ham
The long weekend in Australia has been a pretty dire weather wise. Cyclone Oswald has washed out NSW's bbq plans and poor old Queensland has experienced flooding and heavy winds. Unless you are a duck it's miserable. So what are the best foods to cheer you up on a rainy day?
Being from a country with a reputation for being wetter than a tea party in the deep end of the swimming pool, I know a thing or two about great rainy day food.
For starters there's hearty soups, then there are stout favourites like stew and dumplings not mention fruit crumble's with thick custard. I feel better just thinking about it. Mmm crumble.
But waxing lyrical on the wonders of my favourites from Mother England is old hat for Humble Crumble.  Today I wanted to share something I borrowed from the Italians, risotto (or ree-so-do as my dear friend from Minnesota pronounces it). Granted Italy might not be the first place that springs to mind when you think of the rainy day food, after all what do the Romans know about rain anyway?
For me the key factors of spirit lifting comfort food have to include:
This recipe for risotto with Serrano ham and broccolini ticks all of the boxes; it's pretty easy on the eye too.
Servers 2
Preparation time: 5 minutes
Cooking time: 30 minutes
Ingredients
300g Arborio rice
1tblsp. olive oil
1ltr chicken stock) I used stock that I froze from the Christmas roast
4 slices of Serrano ham (prosciutto works well too as does finely sliced smoky bacon).
6 stalks of broccolini (a registered trade mark of the Mann Packing company so I discovered)
1 onion – finely chopped and diced
2 cloves garlic – crushed and minced
1 small knob butter
½ cup grated Parmesan cheese
Salt and pepper to season
Method
Heat the oil in a frying pan. Add the onion and cook for 15 minutes over a low heat to avoid browning.
Heat the stock in a separate pan.
Add the garlic and cook for a further 5 minutes.
Chop the thickest part of the broccolini stalks into small pieces Leave about two inches of stem from the flower). Set the chopped stalks and the flower part aside.
Add the rice, stir to evenly coat with the oil.
Stir the butter and the chopped thick parts of the broccolini stalks into the rice and add a ladle full of the heated stock.
Cook the rice for about 15 minutes until tender. Stir every few minutes and gradually add the stock a few ladles at a time.
Blanch the remaining broccolini (thin stem and flower part) in boiling water for 2-3 minutes. To prevent them loosing their colour plunge into iced water for a minute once cooked.
Serve the risotto immediately, sprinkle with the Parmesan and arrange the Serrano ham and broccolini on top. Season and serve hot.
Whats your favourite food for a rainy day?