Red Meat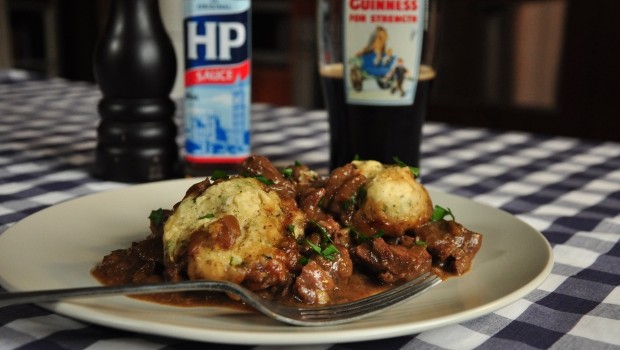 Published on June 16th, 2012 | by Gareth
8
Beef stew with dumplings
Change is a good thing, right? In fact I am told a change is good as a holiday. Perhaps that's a stretch as I associate holidays with ice cream, spoiling myself rotten at restaurants and taking too many photos.  On the subject of change, recently (with a lot of help from my good friend Kiwi Campbell in NZ) Humble Crumble changed its look. The site got a renovation to give it a cleaner look and feel. Navigation should now be easier and the techy stuff working in the background has been updated meaning it is purring like Bond's Aston Martin.
One of the jobs I am still working on is resizing photos. Though this is a bit of tedious task it is interesting to see how my photos have changed over the last 24 months. In fact some of my early posts don't even have photos or they are shot in the wrong format. I had forgotten how much I have learned and grown through my blog (a positive marketing spin on 'my photos used to be crap and now they are much better'). So change in this instance is definitely good.
Thankfully not everything changes, one such unchanged item is an old favourite of mine; stew and dumplings, (perfect for St Patrick's Day). This is another simple, hearty meal and the British and Irish's answer to France's beef bourguignon. It uses cheaper cuts of beef that with a bit of patience and slow cooking, reward you with wonderful rich flavours. Do you have any favourite dishes that are best left unchanged?
Ingredients
2 tblsp canola oil
1 knob of butter
1 large onion (or 2 medium onions), finely chopped
1 kg chuck or boneless shin beef (sometimes called gravy beef). You can also use braising steak.
2 cloves of garlic, crushed and finely chopped
250ml beef stock
200ml Guinness (you can use stout but I recommend adding a teaspoon of brown sugar if you do)
Salt and pepper
2 tblsp plain flour
½ tsp Dijon or wholegrain mustard
1 bay leaf
Sprig of fresh rosemary
Few sprigs of fresh thyme
Fresh parsley
Dumplings
30g suet
60g self raising flour
Salt and pepper
4 tbl spn cold water
Dried sage
Fresh parsley
Method
Preheat the oven to 180 degrees C.
Fry the onions on a low heat with the butter and oil until soft and golden.
Add the garlic and fry for a further 2 minutes.
Remove the cooked onion and garlic from the pan and put into a casserole dish.
Dice the beef into cubes about 3-5cm wide.
Fry the beef in batches over a high heat to seal. Cooking it in small batches will help prevent braising the beef in its own juice. Once browned remove and set aside.
Return half the beef to the pan and sprinkle with the flour. Stir continuously to avoid lumps.
Gradually add the stock, stirring as you go to make a thick sauce. Add the remaining beef and bring to the boil.
Remove the pan from heat and stir in the Guinness and season to taste.
Transfer the beef and sauce to the casserole dish (or if you have one the slow cooker) and add the herbs.
Cover the dish and put in the oven. Reduce the heat to 160 degrees C and cook for 2 ½ – 2 ¾ hours hours.
20 minutes before the stew is ready make the dumplings.
Mix the flour, suet, herbs and seasoning in bowl.
Slowly add the water until you have a dough consistency. Form into golf ball sized portions and set them on the surface of the stew. Push them down so they are 1/3 submerged. Cover the stew and return to the oven for a final 15-20 minutes.
Serve with winter veg or on its own with a garnish of chopped parsley.