Pork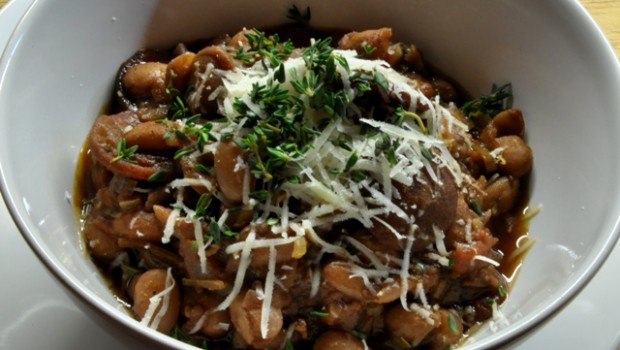 Published on March 31st, 2011 | by Gareth
0
Mediterranean chorizo and bean stew
Like a lot of people, the weather and seasons has a big influence on what I cook and eat.  Back home in England the coming of autumn and the colder weather meant a time of harvesting and stockpiling the last of the summer's goodness. I was lucky enough to live in the countryside, so every weekend during September and October our walks would get distracted by picking plum sweet onyx coloured wild blackberries from the hedgerows. Sometimes we would collect huge Bramley cooking apples which were so sour to eat (I always used to trick my younger brother into taking a bite from one or a crab apple – always worth it for the sucked lemon face) but Bramley's were delicious in a crumble with lots of custard.  If we were lucky we would find wild field mushrooms in the woods, take them straight home and cook them in garlic and butter as a breakfast treat, the food was simple and hearty. The whole experience was a little like Hugh Fearnley's River Cottage accept mums 80s style rockery wasn't conducive to growing our own celeriac or carrots.
With all the rain we have been enjoying in Sydney Town I had an urge to whip up something rustic and chunky but different from my usual repertoire. After spending what feels like an age pawing over recipes from home, France, Spain, Italy and Greece I settle on a Mediterranean style bean and chorizo stew based on a Rick Stein recipe. The key to this recipe is in the chorizo, avoid the sweaty vacuum packed offerings hanging on pegs, they are always bland and watery.  Get your arse to the deli counter for something hot and smoky, ask to try a piece first (if it is smoke cured – raw pork is never a good idea). And don't forget to get some fresh crusty bread too.
Ingredients
300g dried borlotti beans
1 can of roma tomatoes chopped
250g chorizo, about 2 sausages– thinly sliced
3-4 cloves garlic – finely chopped
½ onion- finely chopped
2 tablespoons fresh thyme leaves
175ml red wine
Olive oil
Parmesan
Sea salt
Method
Soak the beans overnight in plenty of fresh water. You can cheat and go for the canned variety but dried beans always have more flavour and texture.
After the beans have soaked, drain and add to a pan of boiling water.
Boil for about an hour until they have cooked all the way through.
Heat a pan up and add a splash of olive oil then add the chorizo.
Fry until the fat in the chorizo renders down, turning the oil a lovely rich orange colour and the sausage begins to brown.
Add the onion and lower the heat, cook for 5 minutes.
Add the garlic and fry for a few minutes more.
At this point I added 1/3 of a leak but that isn't essential.
Next add the wine and reduce.
Add the tomatoes, thyme and salt and reduce for 5 minutes.
Add the beans and cook on a low heat for 15-20 minutes but not so long that the beans dissolve into a brown paste.
Serve with grated parmesan cheese and doorsteps of fresh crusty bread. Blissfully good on a rainy autumn afternoon.