Pork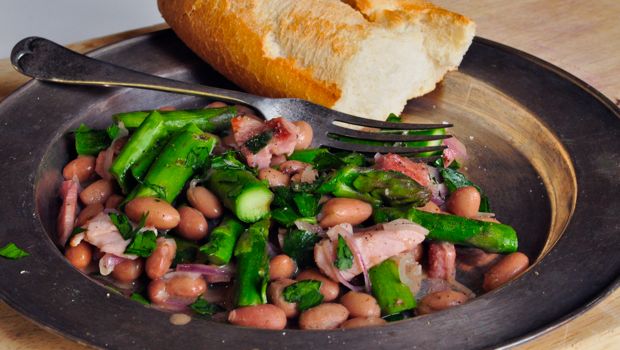 Published on November 5th, 2012 | by Gareth
Asparagus with borlotti beans and bacon
Lunch is un-loved, neglected in the culinary stakes and even seen as a chore of sustenance. All too often lunch takes the form of a bland sandwich eaten on autopilot whilst we stare at a computer screen.
I confess that even at the weekend unless I am eating out with Nina or friends, lunchtime is often hurried or absent of culinary inspiration. Toast, rolls or left overs tend to be common fare. Very rarely do I make something specifically for lunch (beyond a sandwich) and even less frequently will I cook. Hangs head in shame for a moment.
I think it all comes down to culture, when I look at the Europeans (French and Spanish in particular) lunch is the main meal of the day, which makes sense. They take time to savour their food, wine and the mealtime conversation. It's a time to unwind and enjoy the textures and flavours of the food but also celebrate companionship and discussion.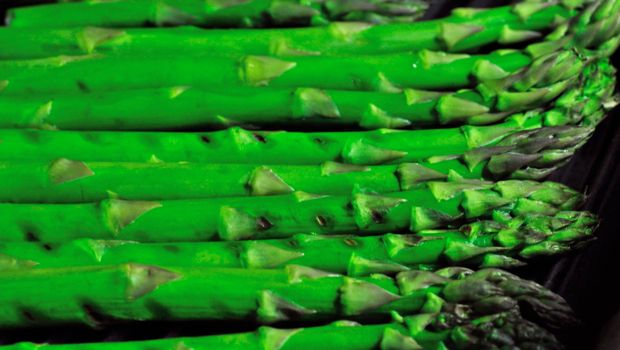 Inspired with these thoughts today I got up early, went to the market and bought some beautifully fresh Aussie asparagus, parmesan cheese and smoked bacon. I made time to have a play in the kitchen, the result was a hot meal that was, tasty, light, but also filling. I really don't know what to call it, as it wasn't really a stew or a warm salad. I suppose it was a little like a speedy cassoulet. Either way I think you should give it a go and win back your lunchtime as this can be made start to finish in less than 20 minutes.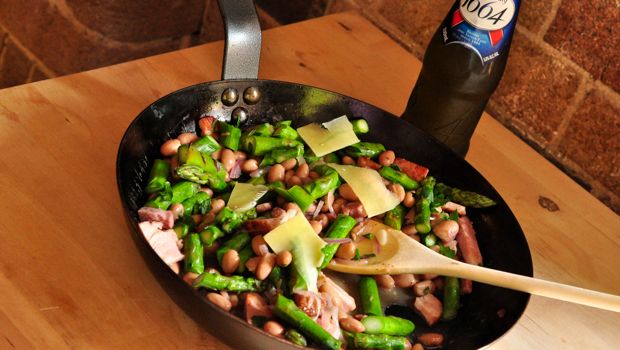 Preparation time: 5 minutes
Cooking time 10 minutes
Ingredients
12 spears of asparagus
2 cloves of fresh garlic, chopped
1 can of borlotti beans (fresh is best if you can get them), fresh peas, fava or cannellini beans would also work really well.
½ red onion, chopped.
4 slices of smoked bacon, prosciutto, jamon or speck roughly chopped
1 knob of butter
2-3 tbsp. fresh chopped parsley
½ cup of vegetable or chicken stock
6 fine slices of Parmesan, Manchego or Percorino cheese (a crumbly feta would also be nice).
2 tbsp. cider vinegar
Method
Snap the bottom of the asparagus stems. If you hold the bottom of the stem and bend it will naturally break the first inch or two. Discard this part and set the succulent stems aside.
Heat a griddle pan (don't oil the pan), once the pan is hot lay the asparagus spears across the griddle and weigh down with a pan lid. Cook on a medium heat for 10 minutes, turning every few minutes.
In a separate frying pan cook the bacon with a tablespoon of olive oil over a medium heat.
Once the bacon begins to turn golden on the edges add the onion and garlic, cook for another two minutes.
Now add the beans, if you use canned beans rinse and drain first.
Add the stock and cider vinegar and cook for 2-3 minutes.
By now the asparagus should be cook to perfection, it should be soft to touch but still snap or have crunch in the centre of the stem. Remove the asparagus from the griddle and roughly chop into two inch pieces. Add to the beans and bacon, stir, season and simmer for one minute.
Remove from heat, sprinkle with the chopped parsley and add the Parmesan.
Serve with a cold glass of cider, beer or a chilled Pinot Gris.
Enjoy and chat with friend.

Do you make time for lunch?