Soup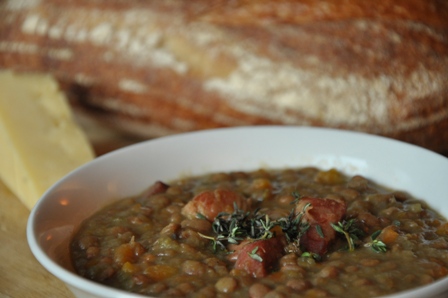 Published on May 16th, 2011 | by Gareth
3
Pea and bacon soup
As a family we seldom participated in the great British tradition of Sunday roast (I don't think mum was too keen on the extra washing up to be honest).  Instead we swapped such feasts for a big hike in the countryside during the autumn and winter months. It was a great opportunity to chat as a family, jump in the mud and if we set off early enough sometimes see wild deer.  Of course all that fresh air works up an appetite.  Cue the family favourite which was my mum's home made soup.  It was hearty and flavoursome and contained fortifying properties akin to the magic potion that Asterix would glug down before he did battle with the Romans.
Now being that I work in marketing I thought I would rebrand, so it's now called 'pea and bacon rustic farmhouse soup'.
Ingredients
25g lard or vegetable shortening. The healthier alternative is a good lug of canola oil.
250g lardons if not available streaky bacon – rind removed
1 large onion
1 large carrot
1 large celery stick
300g dried split peas or lentils
1 ltr chicken stock (don't be tempted to use stock cubes, home made stock will pay you back in spades of flavour)
½ tsp fresh thyme
1 bay leaf
Good pinch of nutmeg
Season with freshly ground black pepper and salt to taste
Method
Put the split peas/lentils in a large bowl and fill with cold fresh water until the peas are submerged. Soak over night or for at least 8 hours.
When the peas have soaked for at least 8 hours, put a decent sized stock pot or large saucepan on a medium heat.
Melt the lard (or heat the oil) in the pan.
Roughly chop the bacon and add to the pan.
Cook until lightly browned.
Chop the onion and add to the pan, cook until golden.
Slice the carrot and add to the pan cook for 1 minute to soften.
Now add the remaining ingredients; the split peas (drain them first), bay leaf, chopped celery, nutmeg, seasoning and stock.
Bring to the boil, then reduce the heat, cover and simmer for 1 hour.  Stir occasionally.