For the Kids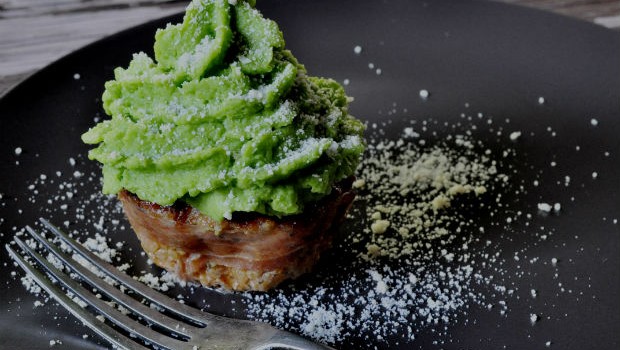 Published on September 22nd, 2013 | by Gareth
3
Porky cup cakes with pea and parmesan frosting
I'm bored with my food! Monday to Friday my cooking can get quite repetitive. I have stock favourites such as chillies, curries, pasta etc. I make them because it's easy and quick which is often what's needed after a long day at work. The problem is, tasty though these dishes are, there's no surprise.
I'm all for food that has an element of entertainment, whether that be in the form of interaction, trickery or theatre. So inspired by Heston Blumenthal I've set myself a challenge, to create fun food. But as I don't have blast freezers, liquid nitrogen, a lab, a workshop or a TV budget I have to keep it relatively simple.
The first of my dishes uses deception as the source of fun. Basically disguise a savoury dish as a sweet treat. For a while I've been experimenting with recipes to come up with a savoury cupcake.  The frosting has always been the easy part, pea or pumpkin for the bright colours, but it's the base that challenged me. This week I nailed it, with something ridiculously simple. Use a meat loaf recipe but bake in muffin tins instead of a loaf tin. Thank you Bex Girvan, you gave me a 'eureka' moment.
These are a great snack, starter, main course or even serve cold as a picnic treat. I used pork because it goes so well with the peas, but you could use beef, chicken or even fish.
Prep time: 10 minutes
Cooking time: 25-35 mins
Ingredients
Meatloaf cup cake
500g lean pork mince
200g good quality sausage meat
1 rasher streaky bacon – diced
Handful of fresh parsley
1 carrot – diced
1 red onion – roughly chopped
1 tsp. dried oregano
1 tsp. dried rosemary
½ tsp. smoked paprika
2 slices plain fresh bread – crusts removed
Salt and pepper
6 -8 sliced prosciutto
Small cubes of apple or chopped pistachio nuts work well with this recipe too.
Glazing sauce
3 tbsp. tomato ketchup/sauce
1 tsp. soy sauce
1 tbsp. fresh lemon juice
1 tbsp. Worcestershire sauce
1 tbsp. sherry
Pea puree
4 cups of frozen peas
1 tbsp. finely grated Parmesan
2 tsp. olive oil
1 tsp. lemon juice
Method
Preheat oven to 180 degreesC.
Crumb the bread in a food processor and empty into a large mixing bowl.
Blend the parsley and carrot for about 20 seconds and add to the mixing bowl.
Next blend the bacon and onion for about 20 seconds, then add the pork mince. Blend for about 10 seconds.
Add to the bowl with the dried herbs, paprika, salt and pepper, sausage meat and apple/pistachio nuts (if you choose). Mix thoroughly by hand. If the mix is a little dry, add an egg. Set the mix aside.
Next, cut the prosciutto into thin strips. Line the sides of a cupcake/muffin tin with the prosciutto.
Spoon in balls of the meatloaf mix and press the mix down to get rid of any air pockets.
As the mix won't rise, mimic the rise of a baked cupcake with your fingers. And pop them in the oven.
Next, make the glazing sauce by mixing all the sauce ingredients in a saucepan over a low heat.
Bake the cupcakes for 15 minutes. Remove and baste if possible (you should be able to remove the porky cupcake with a skewer and baste with the meat juices).
Liberally brush the tops of the cupcake with the sauce and return to the oven for a further 10-15 minutes.
While the porky cupcakes bake, add the peas to a saucepan and cover with boiling water. Thaw and heat the peas over a medium heat for a couple of minutes (until the peat is hot). Don't over cook them otherwise you'll loose the brilliant bright green.
Drain the water off, add the lemon juice, olive oil and Parmesan and either blend in a food processor or with a stick blender.
Pipe onto the hot pork cup cakes and 'dust' with Parmesan.