Vegetarian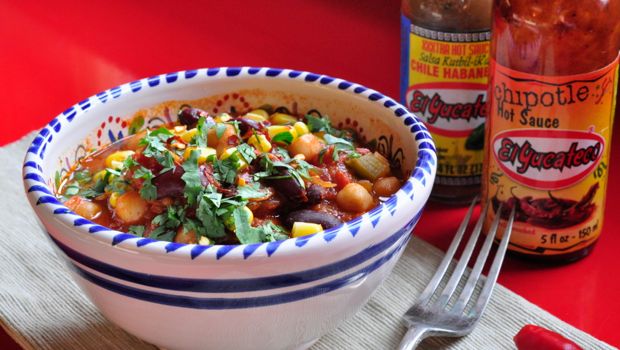 Published on February 5th, 2013 | by Gareth
7
Vegetarian chilli
Does anyone seriously bother to make New Years resolutions anymore? And if they do, do they stick to them or are they half arsed attempts to feel better about the excess of Christmas?
I personally have never made a resolution, I prefer to set realistic meaningful goals (same thing but with a marketing spin). This year is no exception.
The first is to be more active on my food blog – I'm here. The second is to eat less meat, i.e more vegetarian food. The second one is just crazy I know, but its good to find balance. And once your body re-adjusts the farting stops. But if you really can't handle the idea of vegetarian food, try my kangaroo chilli.
Which brings me to my recipe for vegetarian chilli. Handy given I was told last week that Humble Crumble needed more vegetarian recipes. It's a solid year round recipe; add salad and tortillas in summer or serve with rice if its cold and you're hungry. If you're a fiery sort it's easily adjusted to give it more of a kick. This is a bit of a hot chilli so you might actually want to turn down the heat.
Ingredients
Serves 4
Preparation time: 10-15 minutes
Cooking time: 50 minutes (approx.)
2 medium onions – peeled and finely diced
1 tin of tomatoes
1 tin of kidney beans – drained
1 tin of chickpeas – drained
1 fresh tomato – roughly chopped
½ cup frozen sweet corn
1 green pepper – de-seeded and diced
3 cloves garlic – crushed and chopped
1 tbsp. tomato paste
400ml vegetable stock
1tspn. Worcestershire sauce
1 tsp. cumin
½ tsp. paprika
1.2 tsp. chilli powder
1/3 tsp. cocoa powder
1/3 tsp. cayenne pepper
2 cups rice
2 tbsp. fresh coriander – chopped
1 tsp. red chilli – chopped
Sour cream
Salt and pepper to season
1 tbsp. olive oil
Method
Heat a large saucepan and add the oil. Cook the chopped onion over a low heat for 5-10 minutes, until soft and translucent, love that word.
Add the garlic and cook for a further 5 minutes. Take care not to burn the garlic.
Next add the tomato paste, cumin, chilli powder, cayenne pepper and paprika. Stir for a few minutes over a lower heat until well mixed. If it begins to catch add a spoonful of the stock.
Pour in 100-150ml of the stock, tinned tomatoes, chickpeas, Worcestershire sauce and chopped tomato. Stir, cover and increase to a medium heat so it simmers for 25-30 minutes. Stir every 10 minutes to prevent it burning.
Cook the rice in a separate saucepan with the remaining stock and sufficient water to cover the rice by about ½ inch. Simmer over a medium heat for about 15 minutes or just follow the instructions on the packet. Uncover for the last few minutes and stir with a fork to fluff it.
Uncover and add the green pepper and kidney beans. Simmer until it begins to reduce to a thick sauce. 2 minutes before serving stir in the frozen sweet corn. Delivers a sweet crunch to the texture
Remove from heat, sprinkle the coca powder over the top, stir in and cover.
Serve with the rice, coriander, fresh chilli (or chilli flakes) and sour cream.
Season to taste.