Seafood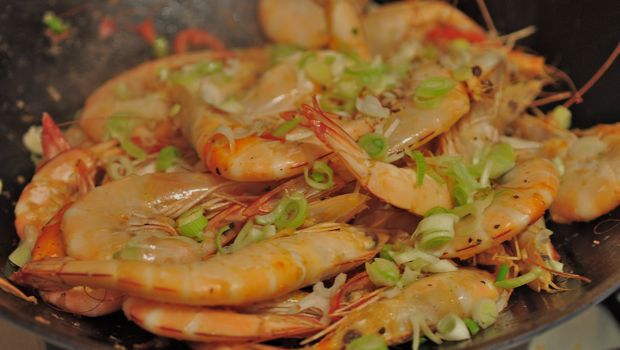 Published on January 26th, 2013 | by Gareth
2
Chilli Prawns
Today is Australia Day, a day that celebrates the first colony being established in Sydney Cove way back in 1788. It's Australia's national day (the name kind of gives it away) and a public holiday.
But aside from commemorating the arrival of over 700 convicts what does Australia Day or 'Straya' Day really mean? Well you get a day off work for a start, which is always a good thing. The pubs will be open; there will be lots of bbqs, concerts and people sporting the Aussie flag painted on their cheeks as an indication of their national pride. Plus 863,000,000 search results on Google.
It's also a time to recognize Australia's multiculturalism with numerous citizenship ceremonies being held all over the country. Even the 'first fleeters' who arrived in 1788 were a pretty mixed bunch including English, Scottish, Welsh, Irish, American and one chap from Madagascar.
All my mates back in the UK seem to think that along with steak and snags (international translation – sausages), prawns are the only things Aussies eat on the bbq. I think its in part due to Paul Hogan's 80s Aussie tourism ad and Alf Stewart, no wait Alf is obsessed with mud crab not prawns. So it's fitting to give one of Aussies bbq companions, the prawn a bit of multicultural make over.
The recipe is chilli prawns, originally a Singaporean recipe shared by Andy Harris and uses crab and a wok. It's a messy dish (but delicious) to eat so either get naked from the waist up or avoid white tops when eating.
Ingredients
1 ½ kg fresh uncooked prawns
4 spring onions – finely chopped
4 large cloves of garlic – crushed and chopped
1 tsp. fresh grated ginger
2 chilli's – finely sliced (deseed if you want to reduce the heat)
2 tbsp. salt reduced soy sauce
2 tbsp. sriracha chilli sauce or cherry chilli sauce
Black pepper
3 tbsp. fresh coriander leaves – chopped
1 tsp. palm sugar
1 tbsp. seasame oil (peanut oil or canola oil are also fine)
Method
Sauté the garlic, chilli and ginger in a hot wok with the oil for a minute, until it just begins to change colour.
Add the prawns and cook for 3 minutes, keep stirring to ensure they cook evenly.
Add the soy sauce, chilli sauce, palm sugar and pepper. Cook for a further 5 minutes until all of the prawns have turned pink. If you want extra sauce add 150ml of water. If you want to thicken the sauce add a tsp of cornflour.
Once cooked add the coriander and spring onion.
Serve hot either on their own with rice or soba noodles.
If its bbq prawns you want try dill and garlic prawn kebabs which are great with a Greek salad.