Seafood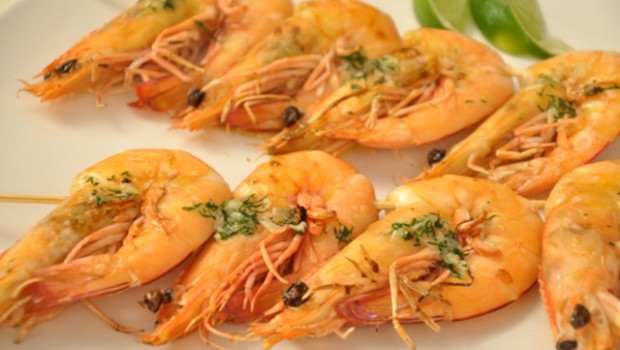 Published on April 4th, 2011 | by Gareth
2
Dill and garlic prawn kebabs
The term 'fast food' often conjures up images of a soggy burger and shoestring fries promoted by ridiculous characters. The reality is that it is often saturated in fat,  pretty goping  and often disappointing leading into regret over the consumption, (unless of course it's 3am and you have had a big night out , in which case it transforms itself into a sumptuous 3 course, gourmet meal that delights).
Being very time poor at the moment I like stuff that is ready as quickly as possible. I am also really enjoying my seafood at the moment. The thing is red meat or chicken tend to be the focus for a lot of fast food. So taking a leaf out of street food and the flavours of the Mediterranean here is a recipe for healthy and fast food. It's not cutting edge gourmet cuisine, just simple stuff.
 Ingredients
24 Prawns
50gm salted butter
2 cloves garlic
3 tsp fresh chopped dill
Salt & pepper
Olive oil
Lime quarters
Method
Crush the garlic into a paste with a little salt.
Mix with the butter, seasoning and dill and set aside.
Skewer the prawns on kebabs sticks. I cooked the prawns in the shell but if you want to avoid the mess at the table I recommend shelling and deveining them before skewering them.
I cooked the prawns on a griddle pan but a bbq is preferable. Grilling them would also work okay. Depending on the size of the prawns they should be cooked with about 5 minutes per side. The shell will change colour and the meat will go from transparent to white.
Serve hot with the dill and garlic butter spread over them and lime wedges. The butter also goes well with fish.