Vegetarian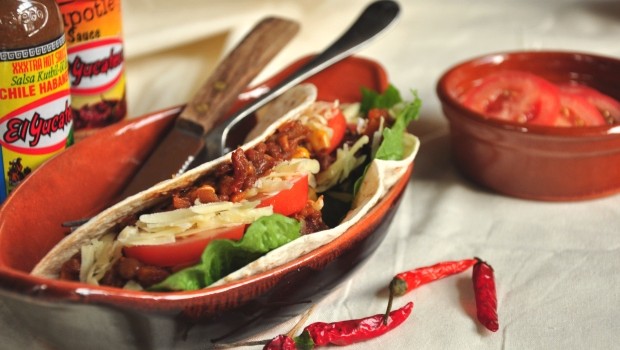 Published on July 7th, 2012 | by Gareth
2
Split pea chilli
My latest trip overseas saw my suitcase stuffed with a variety of chilli powders, sauces and dried goodies from Mexico (bought in California) including an organic smoked Ancho chilli powder.  All cleared by customs naturally.
Like a proud owner of a shiny new car I shared a photo of my jalapeno themed haul on Humble Crumble's facebook page (yes I realise I am sad).  When my friend Wayne in New Zealand saw the picture he put in a request for a vegetarian chilli recipe.
Now this might seem pretty ordinary stuff but let me tell you about Wayne – he's interesting chap. Following on from his blog last year that covered his challenge to read a book a week for 1 year (great place for book reviews) he set himself a new challenge.  A different diet a month for a year, he has just finished the 'no carbs after lunch' diet and before that  it was the 'no food after seven' and 'sugar free" diet. This month is the vegetarian diet. Check out his blog to follow his journey.
Such a worthy cause couldn't go unanswered. I love this recipe for its simplicity but complexity of flavour. The corn produces explosions of sweetness in the mouth, the smoked chili and paprika bring an almost aromatic wood smoke to the dish and the split peas give it a wonderful texture. The consistency of this chilli is perfect for fajitas, soft tacos or just served with rice. The best part is its easily customisable to whatever is in the cupboard and your palate. So have a go and get experimenting.
Serves 4-5
Prep time: 10 minutes
Cooking time 30-40 minutes
Ingredients
2 cloves garlic
2 small to medium onions, finely chopped
1 carrot finely diced
1 tblsp olive or canola oil
200g split peas (a can of chick peas are a great substitute)
2 tblsp tomato puree
1 can tomatoes
1 can of kidney beans (drained)
1 cup sweet corn (frozen is fine)
1 tsp ground cumin
½ tsp smoked paprika
½ tsp sweet paprika
½ tsp dried oregano
1 bay leaf
½-1tsp smoked chili powder
½ tsp cinnamon
1 tsp dried chilli flakes or chopped dried chilli
300ml vegetable stock (or beef stock if you don't have vegetarians dining)
To serve:
Soft shell tacos, sour cream, salad and grated cheese or plain cooked rice.
Method
Heat the oil in a medium to large saucepan.
Add the onions and fry over a low heat for 10 minutes.
Stir the garlic don't let the garlic brown otherwise it will taste bitter.
Reduce the heat and add the tomato paste, herbs and spices.
Add the carrot, stock, and split peas, simmer and reduce.
After about 20 minutes the chilli should have a nice thick consistency. Add the kidney beans and sweet corn. Cover and simmer until the split peas are soft. Season with salt and pepper to taste.
Serve with rice, tortillas, burritos or tacos.
Have you been on any interesting diets that have led you to discover a new recipe?