Preserves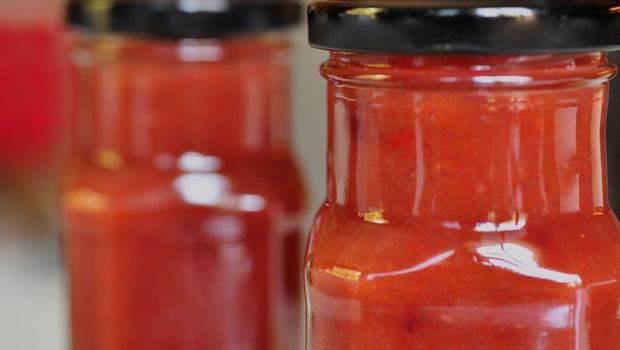 Published on September 7th, 2010 | by Gareth
3
Chilli sauce with cherries
Tasty chilli sauce for dips, burgers, pretty much anything really.
Ingredients
3 Birds eye chillies
4 Normal chillies
1 Red capsicum
1 Garlic clove
150g Fresh cherries, stoned
3 tsp Demerara sugar
100ml Cider vinegar
Chop all of the ingredients, roughly. Remove the seeds from the chillies (unless you want extra heat). Note, be careful handling the chillies, either wear latex gloves of make sure you wash you hands thoroughly after handling the chillies.
Heat 3tsp of olive oil in the pan and add the garlic. Cook for about 30 seconds on a light heat then add the remaining ingredients. Bring the sauce to the boil then reduce the heat and simmer for 5-10 minutes, until the sauce has reduced and the capsicum is soft. Transfer to a blender and blend for 30 seconds.
To store the chilli sauce transfer to a sterilised jar whilst still hot. The sauce will keep in a sealed jar for a couple of months. Alternatively keep any leftovers in a covered container in the refrigerator for immediate use for a week.