Desserts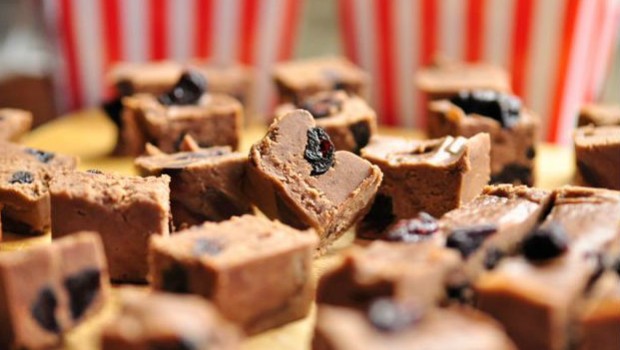 Published on July 15th, 2013 | by Gareth
8
Black forest fudge & the sweet swap
My first cooking experience where I had an active role, was with mum. I made peppermint creams; they don't involve any baking and only require 4 ingredients. Don't let that deceive you though. I decimated the kitchen. Even at 7 years old, I could tell mum was 'impressed' with the square meter coverage I achieved with just one bag of icing sugar. Head to toe, floor to ceiling – and then there was the green food colouring. Oh yes, we're talking martian hands and face. if I'd been bald I might of passed for Ming the Merciless's nephew. I had a blast!
Wishing to relive the childhood feelings I got from making sweets (sorry Australia, lollies), I recently signed up to The Sweet Swap. It's an online event involving Aussie food bloggers; you get matched up to three other food bloggers and basically make them each a package of sweets.  All funds raised from entry fees go to Child Fund Australia. Another big plus, you also receive three packages of sweets.
Being a competitive sort I wanted to make sure I produced something special for my fellow food nerds, after all they could be sharing. I pawed through cook books and the interweb for sticky sugary inspiration. I used to adore black forest gateau as a wee nipper, but I also wanted something from Ye Olde British Sweet Shop and thats where Marcus Wareing's black forest fudge recipe comes in. How could any combo of butter, cream, chocolate and sugar be bad? Now, there is a risk here of friends making jokes about packing fudge, but I'll take the risk because we're all adults here right?
I thought this would be straight forward, however 3 attempts later (and a lot of fudge fails in the freezer – to be used later in home made ice cream) I think I have got there.
What I learned is you cannot substitute dried cherries for fresh cherries, I also learned that not sticking to the quantities can prove bad. An extra 50ml of milk meant that I ended up with a thick version of Nutella. Stick to the recipe kids.
Preparation time: 5 minutes
Cooking time: 25 minutes
Ingredients
50g unsalted butter
100ml double cream
100ml milk
250g raw sugar
100gm good quality dark chocolate (60%+ cocoa solids) broken into small pieces
100gm dried sour cherries
Method
Heat the sugar, butter, cream and milk in a thick bottomed pan, stir constantly.
When all the ingredients have melted increase the heat and bring to the boil.
Then reduce heat and simmer for 15-25 minutes. You will need the mixture to reach 'soft ball stage', (this where you drop a few drips of the liquid fudge from a teaspoon into a clear jug of cold water. If ready the mixture forms into a ball on entry of the water).
Set aside to cool for 5 minutes.
Beat with an electric beater until the fudge thickens.
Fold in the chocolate and cherries.
Pour into a tin lined with baking parchment and pop in the fridge for a few hours to set.
Indulge, its great with a cold glass of milk.
Whats your best childhood sugary or cooking experience?
So that's what I gave, what about what I received? Here's what I arrived in the post:
From amatteroftaste, Aga sent me some delicious Polish Stoneczka. These are butter biscuits with walnut-vanilla filling, baked icing on top and bottom and dipped in coconut. Aga's grandmother's recipe I believe. I shared the treats with my team at work, instant hit. Aga, I look forward to the recipe on your blog.
And from Swah at loveswah, salted butter caramels that melted in the mouth – yum! These were pretty sticky, but that didn't stop a lolly scramble frenzy at work. Thank you! they tasted great and would be awesome with ice-cream.
Unfortunately, I haven't received the third cache of sweets, sighs with sadness as I lament the loss of a sugary opportunity. But not too worry, it's bound to turn up soon unless some greedy postie or courier has scoffed them.
Big thanks to Sara at Bellyrumbles and Amanda at Chewtown for pulling this event together, it was great fun, a nice challenge and a worthy cause.