Red Meat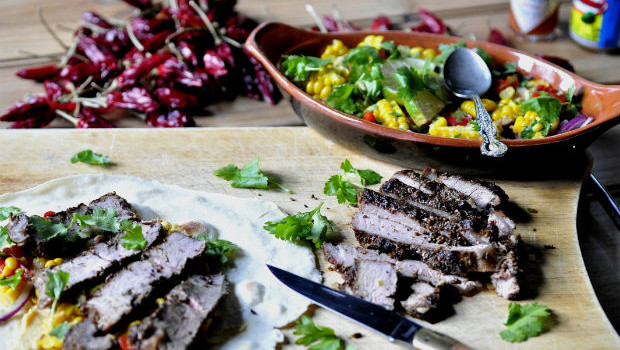 Published on March 2nd, 2014 | by Gareth
0
Inca gold, corn-lime salsa, steak and tortillas
Have you ever visited a city that just feels empty? And by empty, I mean zombie empty, with hardly any people around. I recently visited the nations capital, Canberra. As a city it's a bit of an oddity, the layout feels like something from a town planners wet dream; well spaced out areas of development and landscaped parks, punctuated with large, eye catching steel and concrete landmarks. Perhaps the intention was for the gaps between landmarks to fill up with people. The trouble was it didn't and as a result, I find it a bit soul-less. Don't get me wrong, some of Canberra's modern architecture is impressive, I just can't help but think, that it's creators were inspired by the Jetsons (just look at the Telstra Tower, Parliament and the National Museum of Australia).
However our reason for visiting wasn't to imitate Kevin Macleod. The purpose was gold, specifically 'Gold and the Incas – The Lost Worlds of Peru' exhibition at the National Gallery.
The exhibition consisted of over 200 artefacts ranging from beautiful, intricate gold and silver works of art, to ceramics and incredibly well reserved embroidered textiles. Not all, was of Inca origin (the Spanish conquistadors pinched most of the Inca gold), many artefacts predated the Inca's, as far back as 2,500 years ago. All in all, fascinating. It runs until April, if you're interested in history it's well worth a trip done to ACT.
Because the Incas didn't commit to written records, much of their culture has been lost. This got me thinking about the original reason I started my blog, which was to share recipes with family so they wouldn't be forgotten or lost – the recipes, that is. This week's recipe also has a bit of a South American influence, (although I borrowed it from my favourite Kiwi chef, Al Brown); chargrilled skirt steak with 'golden' corn salsa and homemade tortillas. Plus, it will fill you up.
I definitely recommend making your own tortillas (flat bread originating from the Aztec's), they are quick and easy and taste seriously good when eaten fresh off the hot plate.
Prep time: 10 – 15 minutes plus 4-24 hours to marinade the meat (longer the better)
Cooking time: 10-15 minutes
Equipment: BBQ, hotplate/frying pan, couple of bowls and a zester
Ingredients
Marinated skirt steak
1kg skirt steak, you can use more tender cuts but skirt is packed with flavour
2 cloves of garlic – minced
1 tbsp. fennel seeds
1 tbsp. cumin seeds
1 tbsp. sumac
Fresh coriander stalks – finely chopped
¼ cup olive oil
Golden Corn Salsa
3 cobs of corn
1 large red capsicum
Fresh coriander leaves
Juice and zest of one lime
1-2 avocados
½ Red onion – peeled and finely sliced
Salt, pepper
Tortillas
1 cup milk
3 tbsp. coconut or veg oil
3 cups plain flour
2 tsp. baking powder
1 1/2 tspn salt
Method
Toast the fennel and cumin seeds in a pan, then grind to a powder with pestle and mortar.
Mix in the sumac, garlic, coriander stalks and olive oil.
Tenderise the skirt steak and using a sharp knife make crisscross scores in the meat.
Rub the marinade into the meat, put into a bowl, cover and allow to marinate in the fridge.
Golden corn salsa
Grill the cobs of corn in their husks on a bbq together with the capsicum (whole) for 5-10 minutes turn a few times.
When the capsicum is charred, set aside to cool.
Remove the husks from the corns (along with the stringy fibres) but be careful, they will be hot.
Return the corn to the bbq to lightly char and set aside to cool.
Remove the charred skin from the capsicum and cut the flesh into strips.
Cut the kernels of corn off the cobb and put into a bowl with the capsicum.
Roughly chop or tear the coriander leaves, mix into the bowl with the lime zest, juice, red onion and avocado. Then add to the corn and capsicum.
Season with salt and pepper.
Tortillas
Warm the oil and milk in a pan so it's tepid.
Mix the dry ingredients in a bowl, and then gradually pour the milk and oil into the bowl.
Mix to form dough and lightly knead for 2 minutes.
Cover and pop in the fridge to rest for 15 minutes.
Remove from fridge and divide the dough into balls about the size of a small mandarin.
Flour your work surface and roll out each ball as thinly as you can.
To cook the steak, get the bbq grill as hot as possible, cook the steak for 3 minutes each side.
Now put the tortillas on the bbq grill, hotplate or in a dry frying pan, (which also needs to be very hot). Cook for about 30-40 seconds on one side and 10 on the other. They will blister and brown very quickly so keep and eye on them.
Serve with slices of the steak, corn salsa and chilli sauce.