Chicken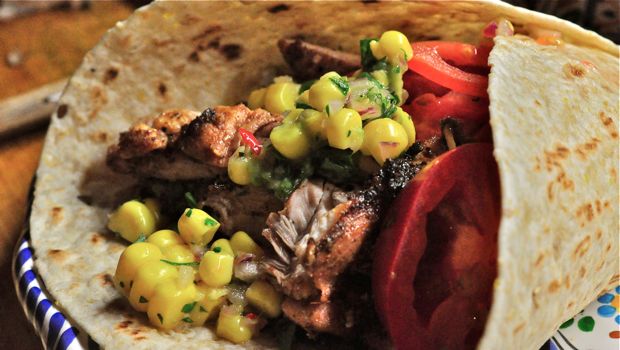 Published on September 2nd, 2012 | by Gareth
2
Chicken fajitas with avocado & corn salsa
Today is Fathers Day (well except in Britain, where they celebrate in June). All around Australia and New Zealand thousands of kids will be serving Dad breakfast in bed. From a perfectly boiled egg with butter dressed toast soldiers to burnt inedible offerings all will be received with smiles, love and gratitude.
We never really celebrated Fathers Day, except when we were very young. Dad always felt it was 'commercialised crap' exported by our friends across the Atlantic. That said we still hit the colouring pens and crayons with zeal to create our answer to Hallmark. In hindsight the images were seemingly hallucinogenic, Technicolor family pictures featuring our Dad (with green hair, giant magenta hands and an orange tie) fishing. Happy days.
The point of this nostalgia is I wanted to share a recipe that I am sure most Dads will enjoy. It's pretty simple and has flavor bursting at the fajita seams. And because it doesn't take long to prepare you will have time to make your own Dr Seuss inspired card for the old man.
The original recipe comes from one of my favourite chefs, Al Brown in his latest book Stoked. He is a typical Kiwi bloke who captures my memories of New Zealand, food of the land, sea and air and delivers it with brilliant down to earth writing.  It's a cookbook not to be overlooked.
Anyway back to the recipe. The original fajita recipe calls for skirt steak, but on the day in question the butcher had none. So I chose another flavoursome meat, free range chicken thighs. I have simplified the recipe a little to remove what non-purists would consider as faffing. So here it is, Al Brown's (and now Humble Crumble's) griddled chicken fajitas with avocado & corn salsa.
Preparation time: 10-15 mins (plus a few hours to marinate the meat)
Cooking time: 10-15 mins
Serves 5-6
Ingredients
16 flour tortillas
Marinate the meat
8 chicken thighs (or 1 kg skirt steak)
1 tbsp. garlic – crushed
1 tbsp. cumin powder
1 tbsp. coriander powder
1 tbsp. fennel seeds – toasted and ground
1 tbsp. sumac
¼ cup olive oil
Avocado and Corn Salsa
4 cobs sweet corn – cooked and kernels sliced off
2 avocados – stone and peel removed, roughly chopped
½ cup red onion – finely chopped
1 chilli – seeds removed and finely chopped
Juice and zest of 2 limes
½ cup fresh coriander – roughly chopped
1 tbsp. olive oil
Method
Mix all of the marinate ingredients together then massage into the meat. Note if you do use skirt steak you will need to tenderize it first, then score both sides of the steak in a criss cross pattern.
Cover and put into the fridge to marinate for a few hours.
For the salsa combine all of the ingredients in a large bowl. Add salt and pepper to taste. Cover and store in the fridge until needed.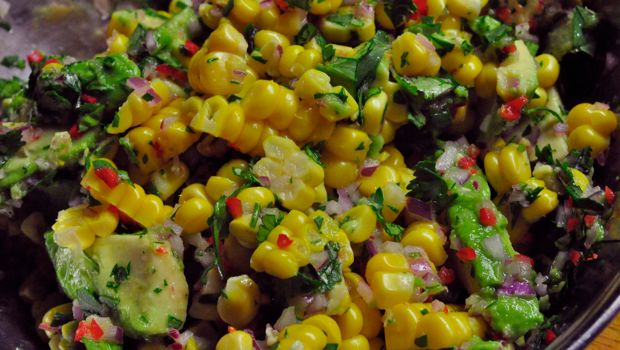 Ideally you would cook the meat over a chargrill but as I live in an apartment I used a searingly hot griddle pan – hello smoke alarm. You loose the wonderful smoky, woody tones but sometimes you have to cut a corner or two.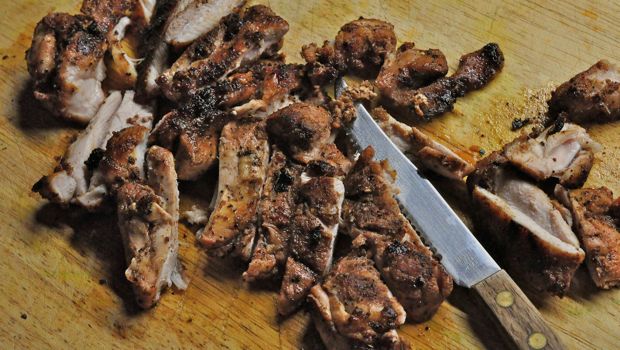 For skirt steak 3-4 minutes either side will suffice, for chicken a little longer. Let the meat rest for 5 minutes then assemble on the tortillas.