Desserts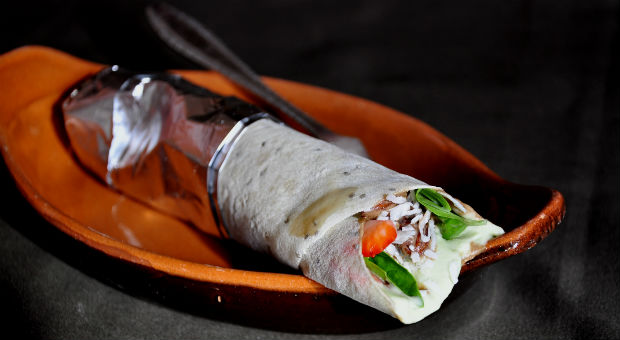 Published on October 20th, 2013 | by Gareth
4
Avocado and coconut ice cream burrito
A few weeks ago, I started a new challenge: to inject a little more fun into some of my cooking. I began with the theme of deception and created porky cup cakes, these resembled a sweet cup cake but were in fact savoury.
I decided to continue with the deceptive theme and come up with a three course disguised food dinner. The porky cupcakes are going to be the starter. Whilst deliberating on what to make for the main course, I had an idea for the dessert, burritos. A dessert that looks like a savoury burrito, but it isn't – savoury that is.
The main component of this is an avocado and coconut ice cream. When I mentioned the idea of avocado ice cream to a few friends though, the facial expressions and comments weren't encouraging, ("I'm sceptical" and "yuck" featured among them).
Not to be deterred, I pressed on. The result was a creamy, yet refreshing ice cream, which was to represent the guacamole. I used peeled strawberries in place of tomatoes; fresh basil leaves to represent the salad and shredded coconut instead of cheese. And as luck had it, I had some left over chocolate mouse that I used to mimic refried beans. However, I have since had a better idea for the 'refried' bean effect. Use either melted chocolate or Nutella with chopped pistachios or almonds.
Now for the tortilla wrap you have two choices; use an actual tortilla (I used a 'light' chia seed wrap as it had a relatively neutral flavour). The trouble with this is, although it looks the part, it's hard to cut with a spoon, which meant I bit it like a burrito. Ice cream and teeth, bad idea. The second choice and a better idea, is to make a crepe or pancake. This is easier to cut into a manageable piece with a spoon.
So here's my disguised burrito dessert with avocado and coconut ice cream:
Prep time: 15 minutes
Freezing time (ice cream): 2 hours
Cooking time (crepe): 5 minutes
Ingredients
Avocado ice cream
Flesh of 2 large ripe hass avocados (don't get reed avocados)
100g caster sugar
2 tbsp. fresh lemon juice
1 can coconut milk (400g)
1 tbsp. desiccated coconut
1 tbsp. dark rum (optional)
Burrito filling
8-12 large ripe strawberries – peeled and chopped
Handful fresh basil leaves
Nutella or 200g good quality dark chocolate – melted
Chopped pistachios, almonds or hazelnuts
2 tbsp. shredded coconut
Crepe batter
110g buckwheat or plain flour
2 eggs 250ml milk
Pinch salt
50g butter
Method
Roughly chop the avocado into a blender (stone and peel removed).
Add the coconut milk, caster sugar, lemon juice, rum and desiccated coconut and blend until smooth (less than 1 minute).
Chill the avocado mix in the fridge for 2 hours.
Pout the avocado mix into an ice cream maker, then freeze for an hour or two or until you have the desired consistency.
If you don't have an ice cream maker, pour the mix into a sealed container and freeze, after an hour remove, blend in a food processor and return the mix to the sealed container and freeze for a further hour. Repeat this process two or three times.
Next, make the crepes: Sift the flour and salt into a bowl and make a well in the middle of the flour.
Crack both eggs into the well together with half of the milk and whisk (by hand is fine) until you have a smooth batter.
Add the remaining milk and whisk together. Cover and pop in the fridge for 20-30 minutes to allow the batter to rest.
When the batter is ready, heat the frying pan over a moderate heat and melt the butter.
Make sure you evenly coat the bottom and edges of the hot pan with the melted butter to prevent sticking.
Use a ladle to spoon 1 ladle full (about 5 tablespoons) of the batter mixture into the hot pan.
Tilt the pan to swirl the mix evenly across the surface of the pan (remember the trick is to make a uniformly thin pancake.
After about 1- 2 minutes use a spatula to lift the edges of the pancake, it should be turning golden. 'Jiggle' (technical term) the pan until the pancakes slides about freely. In one swift move using a scooping motion toss the pancake so the pancake flips over and cooks the other side for 1-2 minutes.
Allow the crepes to cool and then assemble the disguised burritos.
Have you ever winced at the thought of an unappealing food combo? And have you ever tried to make your food more 'fun'?