Vegetarian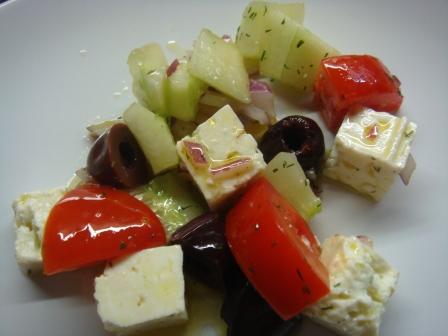 Published on March 7th, 2010 | by Gareth
1
Greek Salad
This is one of the simplest and best known salads, there are a many variations on Greek salad the best are those with fresh ripe ingredients. This is a simple Greek salad recipe that I picked up in Athens. I found the key to getting this right is good tomatoes that haven't been stored in the fridge as this destroys the flavour. I like to use firm fleshy varieties with low acid content like roma.
Ingredients:
4 Firm, ripe roma tomatoes.
1 Lebanese cucumber, peeled.
300gm Kalamata olives.
200-300gm Feta cheese.
½ Red onion.
Good lug of virgin olive oil, I like something with a nutty, peppery taste.
Large pinch of fresh or dried dill (optional).
The measurements for the ingredients act as a guide, I usually try to keep the amounts relatively even.
Chop the tomatoes (through the middle rather than length ways end to end), chop the peeled cucumber and feta and mix with the olive oil. Next slice the onion as thinly as possible, if you have a swish finger slicing mandolin this is perfect, provided you don't add yourself as an ingredient. Mix all of the ingredients together and store in the fridge. I like to make this in the morning in advance of dinner, removing it from the fridge about 20 minutes before serving to get it up to room temperature. This lets the flavours combine to make a winning Greek salad to enjoy on its own or with something like souvlaki.