Red Meat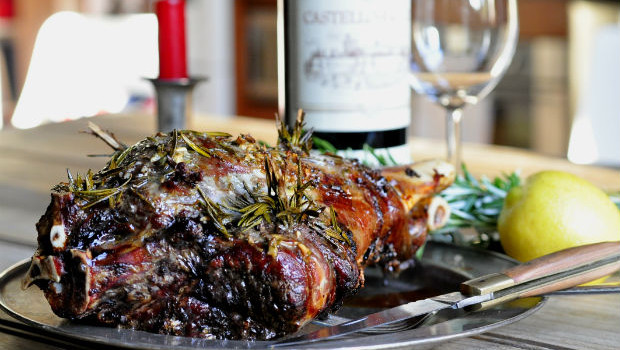 Published on October 29th, 2014 | by Gareth
4
Roast leg of goat with lemon & rosemary crust
When I started Humble Crumble, it wasn't out of some Narcissistic 'look at me' quest. It was simply because I could never remember how I made a specific dish.  Well, that and share recipes and experiences with family and friends overseas. The trouble is writing a blog, especially one on such a widely covered subject as food, isn't really for the sensitive or shrinking violets. You're really putting yourself out there. Sometimes, it feels like that weird dream we all get. You know the one where you find yourself at work/in public naked. You've all had that dream right?
Anyway, I am by nature competitive and there are so many quality food blogs around, like Grab Your Fork, Not Quite Nigella, ChocolateSuze, (300+ blogs in Sydney alone). Then there are the internationals like MsMarmiteLover, Chocolateandzucchini and Just a Taste; it's hard not to draw comparisons. But this is my Zen year, so that doesn't matter. It's all about self-actualisation not social confirmation.
But I still enjoy a challenge, especially when one regular reader told me they'd love to see some more exotic recipes. I probed to find out more, this was after all a valuable opportunity for improvement through some real feedback. They suggested something like roasted wild boar. I had to ask.
The change in season made this quite good timing. So, I went hunting in Sydney's Inner West. It turns out there is an absence of wild boar, but I did find wild goat. Leg of goat is pretty similar to lamb, albeit far leaner.
I usually associate goat meat with Indian curries but looking for something lighter, opted to slow roast it and serve with either a salad. The marinade is pretty simple and has a strong Greek influence: rosemary, lemon zest, olive oil, salt and garlic. The taste was fantastic, best roast I've ever done. It was full of flavour, sweet and with a light but not overpowering gamey note. Unfortunately, due to fading light and lots of red wine, photos of carved meat never eventuated.
Preparation time: 5-10 minutes
Cooking time: 2½ -3hrs depending on weight
Equipment: knife, chopping board, roasting tray and oven
Ingredients
1 1.8kg leg of wild goat (Thomas Farms – available at Coles)
3 large sprigs of rosemary
Zest of 1 large lemon – finely chopped
2 cloves of garlic – crushed and mashed to a pulp
1 tsp. rock salt
3-4 tbls. olive oil
Freshly cracked pepper
Directions
Preheat oven to 170 degreesC
Remove the green needles from one of the rosemary sprigs and chop as finely as possible.
Mix the rosemary with 1 tablespoon of olive oil, the salt, garlic and lemon zest until you have a course paste.
Rub to the goat meat.
Chop the remaining rosemary sprigs into 6. Sharpen one end of each sprig and push into the meat.
Pop the leg of goat onto a roasting rack and pop in the oven.
As goat is lean meat, I recommend basting with a little olive oil every 30 minutes.
After roasting, allow to rest for 20-30 minutes before serving. The leftovers are beautiful in crusty rolls with a little pickle.
Whats the most exotic thing you've cooked?