Desserts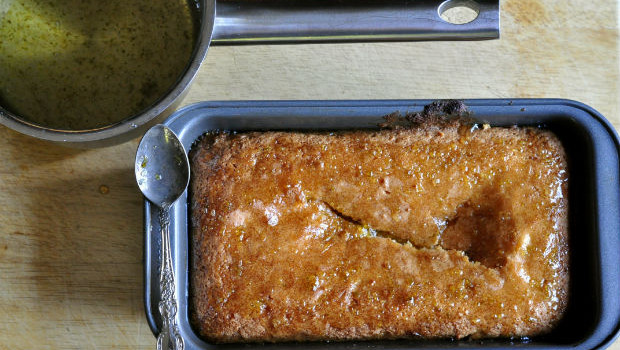 Published on January 31st, 2015 | by Gareth
1
Greek revani – coconut cake with citrus syrup
Once again the Greek economy is hogging the headlines, simplified, their economy is still in the sticky stuff and they want Europe to wipe a significant chunk of their debt out, (with such low wages and high unemployment, who can blame them).
It's a bit weird, a food blog talking politics, right? Well, in my mind I thought it was a good lead into this recipe, because it's Greek, sticky and very economical to make. In hindsight, I'm now less convinced about the logic of the angle, but I'm sticking with it.
Besides, I haven't shared a Greek recipe for ages, so here's a traditional recipe from the mainland. I suspect it was originally made with pistachio nuts, but I'm sticking with coconut. There are stacks of different revani cake recipes available, but all are aromatic and moist thanks to the citrus syrup. Revani tastes great on its own, (I served this at a picnic), or if your New Years diet has really gone to the dogs, you can add extra calories with pistachio nuts, berry fruit and cream.
It's easy peasy to make, although as you can see, mine collapsed due to the weight of the extra lime syrup I added. Recipe adapted from the OzHarvest Urban Harvest cook book
Prep time: 5 minutes
Cooking time: 40 minutes
Equipment: Mixing bowl, electric mixer (or a whisk and elbow grease), cake tin
Ingredients
Sponge
125g unsalted butter
140g desiccated coconut
40g Shredded coconut (gives a nice texture)
150g flour – sifted (you can also use semolina or coconut flour for the gluten haters)
220g sugar
4 eggs
Lime Syrup (traditionally this is a lemon syrup, orange works well too)
200g sugar
60ml lime juice
Zest of 3 limes – finely chopped
300ml water
You can also add cinnamon sticks, cloves and cardamom pods – these tend to work better when you go down the lemon or orange syrup route.
Method
Preheat oven to 200degrees
Beat the butter and sugar together until fluffy and pale in colour.
Add the eggs one at a time and mix in thoroughly after each one.
Fold in the flour and coconut, then spoon the mixture into a pre-greased cake or loaf tin.
Bake at 200degrees for the first 15 minutes, then reduce the temperature to 150degrees and bake for a further 25 minutes (or until a skewer comes out clean). Allow to cool in the tin for 5-10 minutes then remove from tin and cool on a cake rack.
To make the syrup, put the water, zest, juice and sugar into a heavy based pan, bring to the boil and then simmer for 5 minutes.
Set aside to cool, then pour over the cake. Alternatively, like a lemon drizzle cake, pour over whilst the cake is still warm.
Serve straight away or chill then serve (for a heavier and chewier cake).