Vegetarian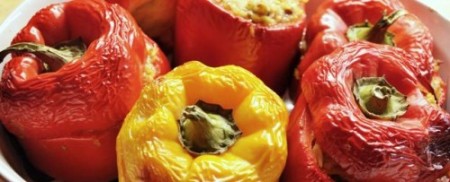 Published on September 11th, 2011 | by Gareth
9
Stuffed peppers – Greek style
We recently had family staying with us which is always nice, one of the guests however presented me with a food challenge in that they are vegetarian. Now being an out and out appreciator of carnivorous delights I sometimes struggle to understand the point of vegetarianism, perhaps I subconsciously associate it with liberal lefties who are out of touch with reality and enjoy living in trees and wearing scratchy hemp underpants.  So long as the animal has had a good life, organically raised in a free range environment and nothing is waisted (another reason why haggis is so good), what's the problem?
Don't get me wrong I will happily tuck into a vegetarian recipe
 but so often it's over cooked and bland. At first reaction I sighed at the prospect of trying to provide vege friendly meals for a week, what's wrong with a carrot? But to be honest I think this was fuelled by my own laziness over having to engage my brain and find seven new dishes. After trawling through a small tower of cook books I emerged with inspiration, eagerness and dare I say even a little excitement at the vege friendly recipe ideas I had planned for
the week.
Three of the dishes have definitely earned themselves a place in my regular repertoire on account of how tasty they were.  One of these was stuffed peppers, a recipe I adapted from Jamie Oliver
. It proved the star of the show when we had a Greek themed bbq (the food not toga clad demonstrations about the economy) and have made it since for dinner for the two of us.
Ingredients
6 Medium sized peppers (capsicums)
200gm long grain rice (works with any type of rice)
600ml vegetable stock (preferably real stock not powdered)
200gm pistachio nuts (plain unsalted, shelled)
1 tsp dry chilli flakes
1 large onion
2-3 cloves garlic
150gm pecorino cheese (original recipe calls for feta but parmesan or pecorino has a richer flavour)
1 tblsp tomato puree
1 handful of fresh mint
1 handful of fresh dill
Salt and pepper
1 tblsp olive oil
Method
Preheat the oven to 200 degree C
Heat the oil in a large frying pan.
Peel and finely chop the onion and add to the pan, reduce to a low heat and fry for 10 minutes until soft and translucent (not brown), I stole that word from a shampoo commercial.
Chop and crush the garlic with a pinch of salt and add to the pan together with the chilli flakes.
Fry for a further 2 minutes still on a low heat.
Add the rice and stir until the rice is coated with the oil.
Add the stock, bring to the boil then reduce heat and simmer until the rice has begun to soften and most of the stock has reduced.
Cut the tops off the peppers ¾ up and remove the seeds and the spongy white parts with a metal spoon or small knife.
Toast the pistachios in a separate pan. Keep a close eye on them as it's easy to burn them and no one enjoys burnt nuts!
Set them aside to cool then finely chop them.
Grate the cheese and add it to the rice along with the tomato puree. Stir in and remove from heat.
Finely chop the herbs and add to the rice. Season and stir.
Spoon the rice mixture into the peppers, fill to the top then pop the tops of the peppers back on.
Put into an oven proof dish, cover with foil and put into the oven for one and a half hours.
Serve hot.