Desserts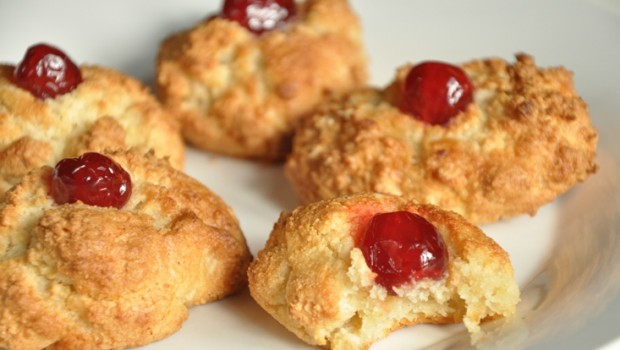 Published on February 19th, 2011 | by Gareth
5
Amygdalota – Greek almond biscuits
As I have been a little tardy in my posts recently I wanted to share something extra delectable. I sought inspiration from a trip to Athens I made some time ago. I was fortunate enough to try Amygdalota, small macaroon style almond cakes, no perhaps they are more like biscuits. The origins of this scrumptious morsel are unknown but they are often associated with weddings. However as it seems the Greeks invented everything (or at least claim to) including the almond I will settle for the fact that it is authentically Greek.
There are several versions of the recipe depending on what part of Greece you visit but almonds are always the hero ingredient. As I couldn't find orange blossom water I modified the recipe and used rose water. I also made a few amygdalota with a couple of drips of kirsch which complemented the glace cherry.
Prep time: 15-20 minutes
Cooking time: 20 minutes
Eating time: 2 seconds
Ingredients (makes about 12)
240g ground almonds/almond meal
3 egg whites
60g semolina
1 tsp vanilla essence
225g icing sugar (confectioner's sugar)
Glace cherries
1-2 tsp rose water or orange blossom water
Method
Pre heat the oven to 170/180 degrees.
Put the icing sugar, vanilla essence and ground almonds in a large bowl and set aside.
In a separate bowl, preferably metal, whish the egg whites into puffy white foam.
 Don't whisk the egg whites into stiff peaks (that phrase always brings a wry grin to my face, so juvenile) otherwise your amygdalota will be too dense.
Fold together.
Add the semolina, fold until it is evenly mixed.
With a wet metal spoon scoop the mixture into round or oval shapes on a non stick baking tray.
Add a single glace cherry to each one and put into the oven. Bake for 20 minutes or until dark golden in colour.
As soon as you remove from the oven drizzle a little rose/orange blossom water over each one.
Transfer to a cooling rack until cool. Dust with icing sugar and serve with coffee.