Desserts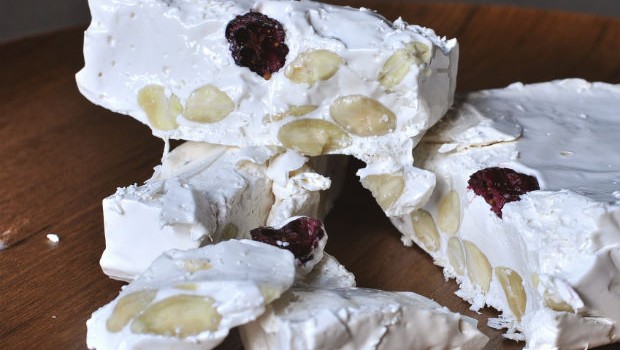 Published on December 2nd, 2013 | by Gareth
4
Almond nougat – turron
Today being December 2 means I can now talk about Christmas. If you're planning to be thrifty this year, homemade gifts, seldom fail to please.  Granted it's not an Xbox One or a Kitchenaid, but Christmas shouldn't be an orgy of commercialisation. Call me old fashioned or even cheap, but there is something special about a gift made with thought, care and a bit of love.
So what do you make for your nearest and dearest? Don't worry, this isn't the part where I share how to make a paperweight or pen pot from washing up bottles, wallpaper and spit like I made at school. No, I'm turning to the Europeans for inspiration; they just do Christmas a little better. There I've said it, don't hate me, but with treats like ginger bread houses, paneforte and nougat not to mention the roast meats, what's not to love.
Across Spain, Italy and some parts of France, nougat is a must for Christmas.  There are quite a few variations on method and ingredients, but generally it is a mix of sugar, glucose syrup, egg white, honey and toasted nuts. There are hard and soft varieties and you don't have to stop at nuts; cranberries, dried cherries and lemon zest also taste great in nougat.
The recipe is straight forward enough. However because timing and temperature are essential to getting this chewy, nutty bar bang on, it took me two attempts to perfect. The cause wasn't helped by the fact that the temperatures given in the first recipe I referenced were incorrect.
Word of warning, don't give this to people with dentures, unless you have a slightly mischievous streak.
Key things that I learned: 
Preparation and planning are vital, you cannot wing this one. So get your mise en place in order.
Mix a little water with the sugar and glucose before heating. It will help achieve a consistent temperature.
After you've mixed the egg white with the sugar syrup, keep beating the mixture for about 30 seconds. This cooks the mix a little extra and helps ensure the nougat sets properly.
A sugar thermometer will make life much easier.
For soft nougat, keep the sugar syrup temperature between 140 and 150 degrees Celsius. Hard nougat, bring the sugar temperature to between 155 and 160.
Never put nougat in the toaster, but feel free to smash it up and add to ice cream.
Preparation time: 15 minutes
Cooking time: 15 minutes
Ingredients 
220g honey
2 egg whites
120gm glucose syrup (see baking aisle of the supermarket)
380g caster sugar
100g blanched, toasted almonds. Toasted pistachio's or hazelnuts are good too.
60gm dried cranberries of cherries (optional)
Zest of one lemon
50ml water
Method 
You can use roasted almonds with the brown skins left on, but I find the skin has a slightly bitter taste. To remove, blanche in boiling water for a few minutes. Drain the water and when the almonds have cooled, give the fat end a little squeeze between finger and thumb. The ivory coloured nut will easily pop out of its skin.
Arrange the blanched almonds on a baking tray and pop in the over for 5-10 minutes at 170 degrees C. Don't let them burn. When toasted, turn the oven off, add the cherries or cranberries to the tray and put on the lowest shelf of the oven to keep warm.
Lightly grease and line a 30cm x 20cm slice tray with either edible rice paper or baking paper.
Heat the honey in a heavy based saucepan over a low heat.
Mix the sugar, water and glucose syrup in a separate heavy based pan. Brush the edges of the inside of the pan, just above the mixture, with the water to remove any sugar crystals.
Heat the sugar syrup over a medium heat. It's important not to rush this. Otherwise you might burn the sugar. Basically aim to keep the sugar syrup clear not caramel in colour.
When the honey reaches 110 degrees C, whisk the egg whites to stiff peaks (preferably in a metal bowl).
When the honey reaches 120 degrees, slowly pour into the egg whites, beating the egg as you go.
When the sugar syrup reaches 150 degrees, slowly pour it into the egg white/honey mix. Beat the egg mix continually as you pour.
Keep beating the mix for a further 30 seconds, at this stage it will begin to stiffen and form a brilliant white glossy mix.
Add the warm nuts, cranberries and the zest. Stir with a wooden spoon then pour the nougat mix into the tray. Smooth flat with a palette knife, then put a sheet of baking paper on the expose top of the nougat. Put another tray on top and weight it down.
Set aside to cool and set for 6-12 hours.
Slice and enjoy with a coffee.
What are your favourite Christmas edibles and how do you avoid a materialistic spendfest this time of year?