Desserts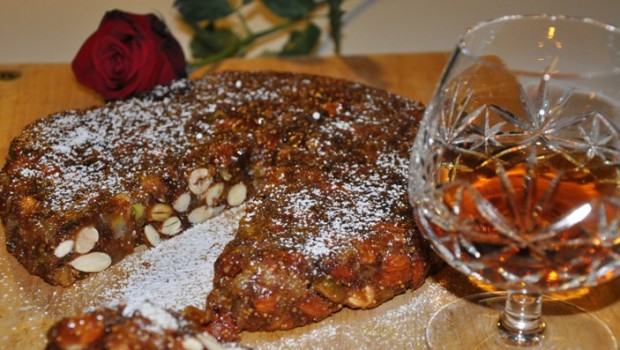 Published on December 20th, 2010 | by Gareth
0
Panforte – Italian Christmas cake
I love Christmas, it's a time for feasting on all things good. In a departure from my traditional Anglo approach of mince pies and Christmas pudding I have gone Italian (well for dessert at least).  Panforte is a much lighter than Christmas pudding and cake, though the ingredients are no less agreeable to the connoisseur of spicy sweet desserts.
I have been eating quite a lot of panforte of late, as have my work colleagues, a result of tweaking this recipe over a few trial runs.  I started with a Jamie Oliver recipe but ended up changing a lot of the ingredients and measurements to suit my needs. For example I love the dried cranberries, adds a lovely touch of ruby colour when you slice. With any luck there will be some cranberries left over for stuffing mix too.
I didn't want to end up with something that was so heavy it would send you to the bottom of the ocean like a ballast weight.  I also didn't want something so sweet it would ruin your teeth before you finished the first slice, (the sort of thing that sticks Nana's dentures together and fuels cousin Timmy on a 6 hour non stop ride on his new bike around the dinning room table, yelling "look at me!" every time he passes Nana.
Hopefully you will agree this is rich and spicy yet light and still vaguely traditional.
Prep time: 20 mins
Cooking time: 40 mins
Ingredients
100g dried cranberries (sweetened 'Craisins' work very well).
200g dried figs
2 tsp chopped orange zest
25g dried apricots
8og pistachio nuts
100g hazelnuts
120g almonds
6 tblsp clear honey
100g Soft brown sugar
50g caster sugar
75g flour
1 tsp ground cinnamon
Seeds from 5 cardamom pods
3 cloves
¼ tsp fresh nutmeg
2 tblsp brandy
1 tblsp sherry
Sweet rice paper (the stuff used for making macaroons)
Method
Preheat the oven to 150 degrees.
Toast the nuts in an open pan for 5-10 minutes.
Set aside in a bowl to cool.
Once cool add the orange zest and flour to the nuts.
Crush the cardamom seeds and cloves to a powder in a pestle and mortar.
Blend the figs and apricots then add to the pan with the alcohol for 2 minutes, stir constantly.
Add the spices, sugar and honey and bring to the boil.
Reduce the heat and simmer for 8 minutes.
Whilst the mix is simmering line a shallow round cake tin with rice paper.
Distribute the mix evenly in the cake tin and bake for 20 minutes.
Remove from the oven and cover the top of the mix with rice paper.
Return to the oven for 5-10 minutes.
Remove from oven; allow to cool thoroughly before serving. Like my banana cake I quite like this chilled.