Desserts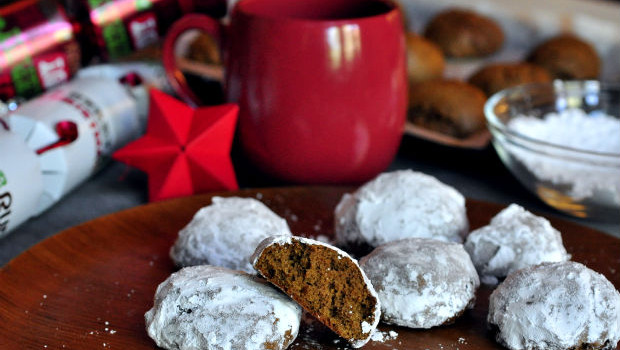 Published on December 2nd, 2015 | by Gareth
3
Pfeffernüsse – German Christmas cookies
It's that time of year again, that time when you think "oh shit where has my year gone" and "Does Uncle Tom like Blue Stratos aftershave?" Yes, it's almost Christmas.
I love Christmas, but at the risk of upsetting my antipodean pals, I find Christmas down under to be a bit flat. Despite assimilating on many fronts, (except sport, I haven't even bothered in this department – I'm still English at heart), I struggle with Christmas here. Everything I know and love about Christmas, just doesn't work in Australia. Take Christmas lights, all the high streets back home are festooned in lights, which when it's dark (usually by 4.30pm), make the place feel magical. If the Aussies do manage to tear themselves away from the beach and put lights up in the high street, the sun is still shining and it's 28 degrees.
It's not cold, so huge roast dinners don't have the same appeal, (but prawns followed by ice cream do). The absence of snow, log fires, hot roast chestnuts or holly just feels strange.
I realise I sound like a whinging pom; most Aussies are probably thinking "why don't you go bugger off back to England if you don't like it". Perhaps I'm just blinkered by childhood nostalgia and excitement of what I can only describe as, the best Christmas's ever. After all, I have friends in the UK who'd gladly swap their Christmas for mine.
Funny thing is, the Aussies are still in many ways as wedded to a Northern Hemisphere Christmas as I am. A quick look at the store decorations, wrapping paper and Christmas card designs confirms this.
This year, to adjust to my environment (just a teensy bit) I'm ditching the heavy Christmas pud, mince pies and panneforte. Enter pfeffernüsse, a spicy cookie served at Christmas in Germany.
These bite sized gingerbread biscuits are light and comparatively airy, but still deliver buckets of spice flavours traditionally associated with Christmas. The best part is you don't need to be a master baker to make them.
Prep time: 40 mins (including 30 mins to chill the mixture)
Cooking time: 12-15 mins
Equipment: tablespoon, mixing bowl, ovenproof tray, electric mixer
Ingredients – makes 15 – 20
• 2 cups of sifted flour (you could substitute one of these cups for almond or hazelnut meal)
• ½ cup soft brown sugar
• ½ cup of molasses or black treacle
• 2 tbsp. butter
• 2 eggs
• 2 tsp. lemon zest
• ½ tsp. cinnamon
• ¼- ½ tsp. ground white pepper
• ½ tsp. ground ginger
• ¼ tsp. baking soda
• Good pinch of ground cardamom
• Icing sugar
Directions
• Line a large baking tray with baking paper.
• Beat the butter and sugar together until light and fluffy (electric whisk/mixer time).
• Mix in the molasses, then the egg until you have a smooth batter.
• Fold in half the flour, baking soda and the spices; fold in remaining flour until thoroughly mixed.
• Cover the bowl with plastic wrap and chill the mix in the fridge for 20 minutes.
• Remove mix from fridge and portion into small balls. A level tablespoonful or slightly less of mixture will give you the right size.
• Arrange the balls of dough on the tray and refrigerate for a further 10 minutes.
• Preheat the oven to 180 degrees.
• Bake for 12-15 minutes.
• Remove from oven once they have puffed up and are just starting to crack (stick a skewer in one of the pfeffernüsse, if I comes out clean, they're ready).
• Pop on a cooling rack to cool.
• You can eat them as they are, but they taste and look better with a coating of icing sugar (confectioners sugar for the US).
• Alternatively you can coat with a hard icing – 200g icing sugar and just under ¼ cup of kirsch (or rum).
p.s. I'll still be cooking a turkey for lunch 😉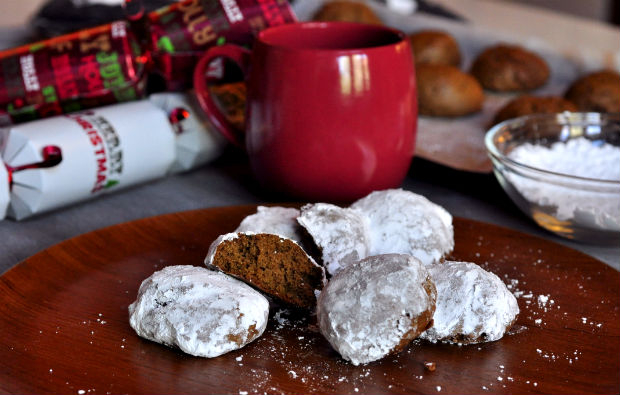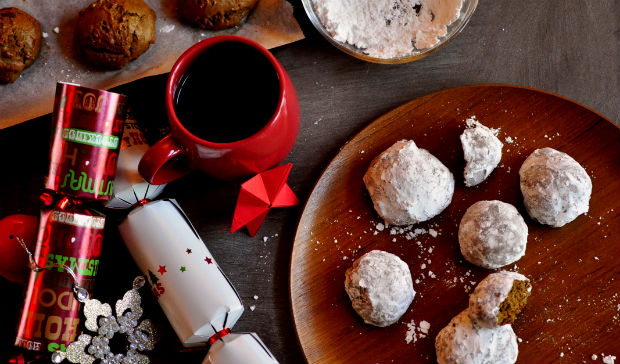 This post is part of the monthly link Our Growing Edge. This month is hosted by Lauren at Sweet and Southern Lifestyle.