Desserts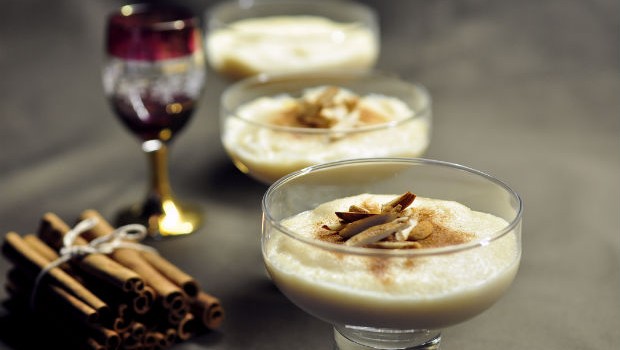 Published on September 8th, 2013 | by Gareth
3
Moroccan almond cream pudding
It's spring but it feels like summer in Sydney, with today's temperatures reaching a stonking 31 degrees! The mornings are getting lighter and lush flashes of green are emerging from the trees. It's time to bust out the knotted hankie.
Brilliant, I thought this is the perfect opportunity to post my natural ice pops. Then I looked in the freezer and realised it's so full there's no room for the ice-lolly moulds. I've resolved to do a lot of eating over the next week so I can deliver ice pops to you next week though.
I still fancied something chilled and sweet. So keeping with last week's Moroccan theme, here's a dessert with a difference, almond cream pudding. It's a runner if you're gluten intolerant, (but likely to prove a disaster if you're allergic to dairy or nuts). I used pretty large bowls, but would definitely recommend something smaller as you might find it a bit filling in the warmer weather.
Aside from being pretty unusual as dessert flavours go, Moroccan almond cream pud features cinnamon sugar. Which means it has to be good, right? Even better, you should be able to knock this up in minutes.
Preparation: 1hour (chilling time)
Cooking time: 15 minutes
Ingredients
750ml semi skimmed milk
4 ½ tbsp. caster sugar
2 tsp. caster sugar
1 ½ tsp. ground rice
100g ground almond
2 tbsp. rose water
To decorate
Handful of chopped or flaked almonds. Pistachios work well too.
2 tsp. cinnamon
4 tsp. caster sugar
Method
Heat the milk and the caster sugar in a saucepan.
Mix the cornflour, ground rice and 3 tablespoons of water into a paste in a separate bowl.
When the milk comes to the boil, pour into the bowl with the paste. Its important to stir constantly otherwise it will go lumpy.
Using a whisk, keep stirring and gradually add the ground almonds.
Return to the saucepan and bring to the boil of a medium heat.
Simmer for two minutes.
Mix in the rose water, remove from heat and cool for a few minutes.
Pour into glasses or bowls and pop into the fridge for 1 hour.
Top with the chopped almonds
Mix the sugar and cinnamon together and sprinkle over the top of the pudding.
Whats your favourite dessert on a sunny day?