Seafood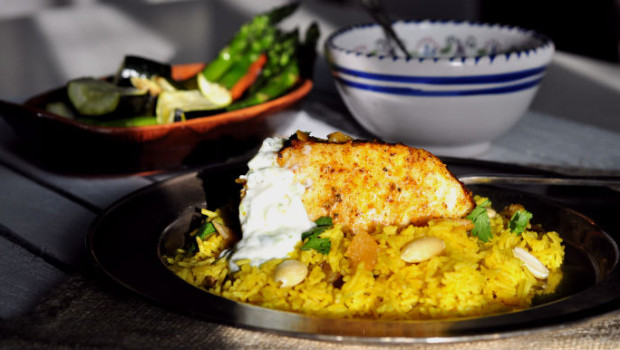 Published on October 28th, 2015 | by Gareth
0
Moroccan spiced fish and yellow rice
This week the World Health Organisation (WHO) dealt a karate chop to lovers of charcuterie and red meat (pun intended). In the latest in a never ending string of cancer health scares, recent research as concluded that processed meat causes cancer and red meat should be consumed in moderation.
3 more ingredients that I love, red meat, bacon and sausages join the danger list. Bugger! Though in all honesty, we all knew they should be on that list regardless of what the research says. We just didn't want to admit it. The saving grace in the story is like most things, moderation is the key (except in the case of a uranium sandwich followed by packet of cigarettes).
So here is something quick and easy to make for dinner in between the occasional bacon roll, Moroccan spiced fish. It doesn't get much simpler.
The accompanying yellow rice is basically rice cooked with turmeric, paprika, cumin, stock and raisins. Which goes well with a number of other dishes such as Souvlaki. The dish nicks flavours from Moroccan, Persian and Greek cuisine; the tzatziki brings the whole thing together nicely so nothing feels at odds with the rest.
Prep time: 10 Minutes
Cooking time: 15-20 minutes
Equipment: Baking tray, baking parchment, large saucepan with lid and a grater
Ingredients
Moroccan spiced fish
• 750g – 1 kg fresh firm white fish – I used pink ling fillet for it's thickness
• Moroccan spice/Ras el hanout – 1 tbsp.
• Paprika
• Olive oil
Yellow rice
• 3 cups of long grain rice
• 1 tbsp. cumin powder
• 1 tbsp. turmeric powder
• 1 tsp. paprika
• ¼ cup raisins
• Handful of blanched almonds
• ½ preserved lemon – pith removed, skin diced
Tzatziki
• Thick Greek yoghurt
• Fresh mint
• Garlic
• Olive oil
• Cucumber – grated and excess water strained out
Directions
• Preheat the oven to 180 degrees
• Cut the fish into thick slices (2-3 inches thick)
• Mix the ras el hanout and paprika with enough olive oil to make a runny paste. Brush the spiced paste on the fish and set aside.
• Wash the rice 2-3 times until the water becomes clear.
• Put the rice in the saucepan with enough water (or ideally chicken or vege stock) to cover the rice – so the level of liquid is about 1 inch above the level of the rice.
• Mix in the spices and raisins, and then cook as you would normally cook rice. (I bring to the boil, then reduce the heat and cover until the liquid has all but gone).
• Put the fish on the baking tray (on the parchment) and bake for 10-15 minutes.
• Whilst the rice and fish are cooking, make tzatziki.
• When the rice is cooked, remove from the pan and stir in the preserved lemon and almonds.
• Serve hot with roasted courgette or asparagus
If you want to read the highlights of the report, this article from the BBC is among the best I've seen