Chicken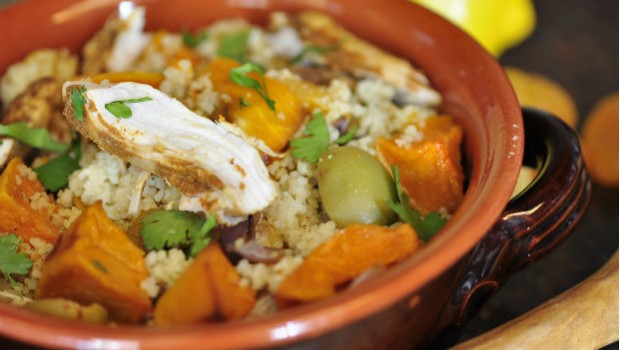 Published on October 6th, 2013 | by Gareth
3
Moroccan chicken tagine cous cous salad
Everyone loves a long weekend and the fact that I completely forgot about Labour Day until last Monday is like a surprise gift. The tall ships are here and there is a big navy shindig putting a show in the harbour (International Fleet Review). Perfect excuse for a picnic!
The thing with picnics is it's all too easy to settle for chips and dips, a bottle of plonk and a few rolls. But I want more out a picnic than a soggy cheese and tomato roll with tepid wine. I wanted something a little more exotic.
I enjoyed the recent tagine flavours and wanted something that captured the richness without lots of sauce, tasted great hot or cold and portable. The result is a Moroccan chicken and apricot cous cous salad. I've used a whole chicken because it's more economical plus I prefer making my own stock. But if you can't be arsed I suggest you buy chicken quarters (Maryland) and a litre of decent quality stock (it will save you time).
The great thing about this dish is with every mouthful you get new flavour and texture combinations. Perhaps a bit of sweet apricot or squash, then heat, then crunch from the almonds.
Preparation time: 8 hours (includes the marinate time).
Cooking time: 1 hour
Ingredients
1 whole chicken (cheaper) or 4 quarters
½ butternut squash – diced
½ cup olives or blanched almonds
8 dried apricots – chopped
Handful fresh coriander leaves – chopped or torn
2 cups cous cous
1 tblsp. preserved lemon rind – diced
1 ltr quality chicken stock
1 tbsp. paprika
1 tbsp. cumin
1/2 tbsp. cinnamon
1 tbsp. ground ginger
2 tbsp. ras el hanout (Moroccan seasoning)
1 tsp. chilli flakes
Seasoning and lemon juice to taste.
Method
If pressed for time, skip the first two steps, buy the stock and buy chicken quarters.
24 hours in advance cut the breast meet off the chicken carcass, remove the wings and legs. This should give you a meatless carcass.
Trim the fat off the carcass and boil with enough water to submerge the chicken carcass with one onion, one carrot, 1 bay leaf, thyme and a celery stick. Once to the boil, simmer for 2 hours. Drain the stock into a jug and discard the rest.
Mix all of the spices (except the chilli flakes) in a large bowl and add the chicken. Ensure the spice is well rubbed in, cover and refrigerate for 8 hours, ideally overnight.
When the chicken has marinated transfer to a covered tagine or ovenproof dish with a teaspoon of olive oil. Pop into a preheated oven (160 degrees) and cook for 45 minutes – 1 hour (until the chicken is cooked and the juices run clear).
Rub a little olive oil into the butternut squash cubes, season and put on a trey and put them in the oven to roast for about 40 minutes until golden.
Allow to cool and then strip the chicken from the brown.
Bring the stock to the boil; you can also add some/all of the meat juices from the chicken – optional)
Put the cous cous in a bowl and add the hot stock. Give it a quick stir and allow to stand for a few minutes until the cous cous is soft. Fluff with a fork. If the cous cous isn't soft, top up with a little boiling water.
Add the chicken, chilli flakes, olives, coriander, apricot, butternut squash and preserved lemon. Mix thoroughly.
Season and add the juice of one or two lemon quarters.
Serve hot or cold with a nice glass of pinot gris – but make sure the wine is chilled.
Whats your favourite picnic treat?